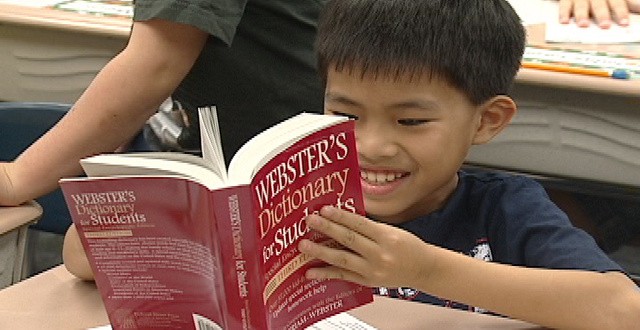 Terre Haute third graders receive free dictionaries
Members of Terre Haute's Rotary Club helped distribute more than 1,300 dictionaries to third graders across Vigo County, IN.
The purpose of the Dictionary Project is to get kids interested in books and the meaning of words.
"It was great having them open the dictionaries and look up the words," Beth Tevlin, Executive Director of the Wabash Valley Community Foundation, said. "They were very enthusiastic about receiving this dictionary which is theirs to keep."
Dictionaries will also be handed out to third graders in Clay and Sullivan counties in the coming weeks.
Over the last eight years, 19,560 books have been donated to students through a joint effort between the Wabash Valley Community Foundation and the Terre Haute, Sullivan and Brazil Rotary Clubs.