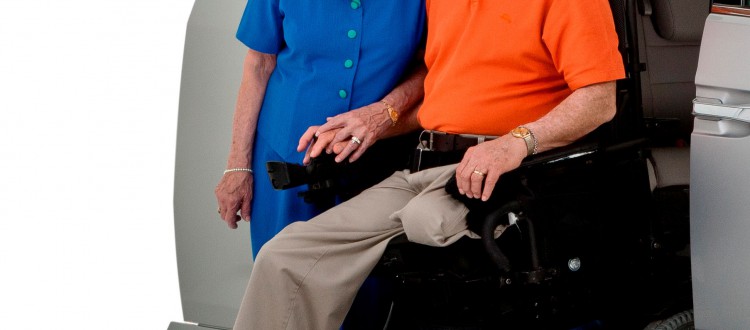 Arizona has its own "PolioPlus Poster Guy"
We'd like to introduce you to Sun Lakes, Arizona Rotarian, Harold (Hal) Wochholz, who is known as the 'PolioPlus Poster Guy' in our club and District 5510. Following high school graduation in 1949, with lots of ability, but little motivation, Hal enrolled at Purdue University to play football. After a year and a half, he found out he was going to be drafted for the Korean War. With his parents' okay, he joined the U.S. Navy during those tumultuous years.
While in "boot camp" he proposed to the true love of his life, his high school sweetheart, and they were married. They have now celebrated over 60 years of marriage. While still in their early twenties, they had a lovely daughter, and later a son. Hal, the new father, read Dr. Spock's baby book to make sure they were doing the right things for their new additions. While reading one portion where the symptoms of infantile paralysis were discussed, he said, "My gosh, I have all of those symptoms." He went to a doctor at the local naval hospital who dismissed it as being a 'stiff neck,' and sent him home. It got worse, so he returned again, and they concluded, "Yes, you do have polio." They checked him in for the beginning of a 57-year battle for him and his wife, Phyllis, his strongest teammate, and ultimate caregiver. He has battled all of the usual ailments, aches, and pains of polio, and is presently suffering from Post Polio Syndrome. He was able to avoid the iron lung, but has been using crutches, canes, and now an electric-powered wheel chair, for all of those physically challenging years that are still continuing. He very recently had his left leg amputated above the knee due to polio-caused poor circulation.
Following his discharge from the Navy, he enrolled at Michigan State University and began the program in Electrical Engineering, now with great motivation to prepare himself to somehow support his family. High school years had been occupied with athletics, but he was now confined to braces and canes. This had now changed his entire life and attitude to be successful academically. He became an 'academic star' with this important family goal, receiving Highest Honors upon graduation, eventually with BS and MS degrees in Electrical Engineering.
He has had a most successful 50-year career with major corporations involved in the fields of aerospace, rocket development, computers, electronic technology, and also serving as a college professor. In addition, as a volunteer, he has headed up in Arizona a non-revenue producing for him program called CHOICES (www.choices.org) which is aimed at high school freshman, urging them to "Take the tough courses and prepare yourself for the job you CHOOSE, not the job to which you are academically limited." Approximately 80,000 students have been personally touched by Hal, and other volunteers, through the CHOICES program. He tells them, "Don't throw your high school years away like I did. You may not get a second chance like I did!" What a positive effect this program has had on the youth it has reached.
Now on to the work as the "PolioPlus Poster Guy," a title he has given himself in honor of those children in the 1930's/40's who served as President Roosevelt's Poster Children. He began by becoming the leading force as the Committee Chairperson for raising funds in his Sun Lakes Rotary Club for the PolioPlus program. For the past three years he has served as the District 5510 PolioPlus Lead. Hal has made presentations at our District 5510 District Conferences; spoken to some 40+ Rotary Clubs; made presentations to all student councils for fifth and six grade students in the area, as well as to high school level student councils; all of the Chandler Unified School District principals, along with many teacher groups. Those activities resulted in Hal being designated Rotarian of the Year for District 5510 in June of 2010.
Superintendent of Schools Camille Casteel, an honorary member of the Sun Lakes Rotary Club, authorizes one charitable program yearly for the 43 high school student councils to raise and donate funds to. This year, after being briefed by Hal, she selected the PolioPlus program, and the students raised and gave $22,000 this year to the Rotary International Foundation to support the PolioPlus Program. In addition, Hal has personally raised, through his efforts, another $18,000 to boost the sum to over $40,000 given this year. What an achievement for a great guy who has had a strong determination to overcome what many would consider an overwhelming handicap. Among many other obstacles, you can imagine the problems he has in getting himself, and all of his Power Point equipment in and out of a handicap van for all of these presentations.
This story is never ending for this 80-year-old Rotarian with his many achievements, contributions to society and to Rotary International. Can you imagine that, under his circumstances of being a 57 year long polio survivor, saying that polio has given him a special opportunity in giving him a second chance to do good for others, while expecting nothing in return. A truly remarkable Rotarian called the "PolioPlus Poster Guy," is Hal Wochholz of the Sun Lakes Arizona Rotary Club. What a privilege it is to know, work with him, and be inspired by him. (Hal's e-mail address is: hwoch@q.com)
Written by Rotarian Dwight Grotewold
Dictionary Project note: Hal Wochholz is also an active Dictionary Project volunteer, visiting schools in the Chandler Unified School District each year on behalf of the Sun Lakes Rotary Club.