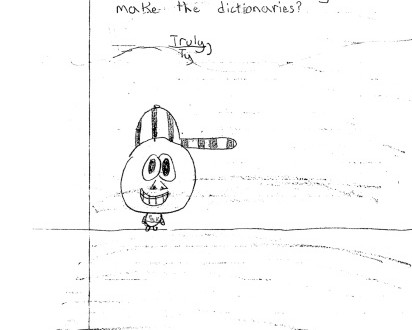 Kids get busy with new dictionaries
Six years ago, retired Berryville resident John Friant Sr. read an article in the Wall Street Journal about a South Carolina woman who bought paperback dictionaries for every third grader in the state.
"I thought, if she can do that for a whole state, I can do this in Clarke County," the 90-year-old said. "It's my pleasure to see this grow into an ongoing program."
Friant teamed with the Clarke County Education Foundation and others to help raise money for an endowment and turn that idea into an annual gift for every third grader in the county – about 300 public, private and home-school students.
On Tuesday, Friant and members of the foundation presented D.G. Cooley Elementary School third graders with their very own dictionaries at the school.
"Now you cannot misspell a word in my class," third-grade teacher Amy Smith joked with her students after the dictionaries were presented.
The first word third grader Mya looked up in her crisp, new book was "dictionary."
"There it is," she said, adding that she has a large dictionary at home that she often uses. "This one will be easier to carry around."
Third grade is the perfect age for the students to receive dictionaries, Smith said. They are first introduced to the concept in second grade.
"The students carry around those dictionaries all year," she said.
The book includes maps, lists of the nation's presidents, and historical fast facts.
Over the past six years, the program has provided more than 1,500 dictionaries combined to students in the Clarke County Public Schools, Powhatan School, Grafton School, Keystone Baptist School, and home-schoolers.
It costs about $600 a year to provide the books, according to the foundation's executive director, Kim Stutzman.
The Clarke County Education Foundation received many nice thank-you letters from the children. Here is a sample of them:
"I appreciate what you gave us third graders. Evry time my teacher tells us to look up a word I go strait for my dictornary. I love the saying "The limits of your language are the limits of your world." Thank you so much.
Love,
Hannah"
"Thank you for the dictionary. I have gotten facts about the planets. What I have liked to do with it is write some facts like from planets and presidents. I think in the future I will use it to pass down to my kids. So maybe it will go down the line for lots of years, mabe to the end of time. I remeber to use it. Its so cool, I learnd how to say hello in sign lange.
Kathryn"
"Dear Clarke County Education Foundation,
Thank you for coming into my class and giving me a dictionary. I use it for looking up definitions. The longest word in english language Is realy realy Long. I like that it has a multiplication table and letters. And all of that stuff it is realy helpful to all of the 3rd graders.
I'm so glad that you came in to give us the dictionaries. I like that some of the kids weren't here so you saved some dictionaries so that the next day they could go to that class and they would still get it. In fourth graders do you give them anything. When we go to the fourth grade you guys should come in and give us incyclabidia. That would be so awesome. Thank you for coming.
Love Maddie!"
"Mr. Friant Sr., Thanck you for the dictionaries. How did you make the dictionaries?
Truly,
Ty"