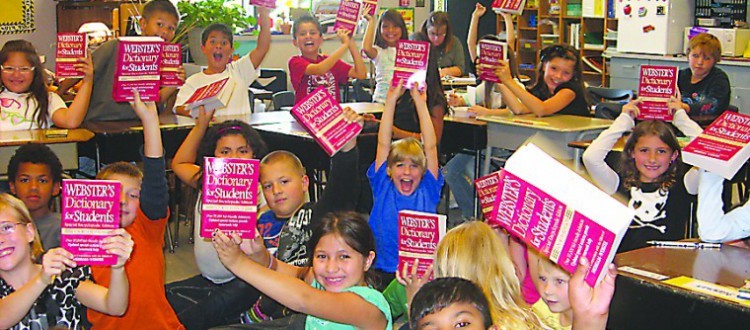 Moses Lake students receive dictionaries
Third-grade students throughout the Moses Lake School District received dictionaries to call their own.
Third graders in all Moses Lake, WA, schools, both public and private, received the dictionaries as part of the annual Dictionary Project sponsored by the Kiwanis Club.
"It is so exciting to know that education is valued and esteemed in our community," stated Lynn Frey, the kindergarten through fifth grade literacy coach for the Moses Lake School District. "The gift of dictionaries to our students will provide an excellent resource for them to deepen their understanding of the meaning of words and their use … Recent research studies have shown that early vocabulary knowledge is a powerful predictor of young students' reading comprehension in later years."
Kiwanis members visited local elementary schools and personally handed a dictionary to each third-grade student.
"We've been doing this for over eight years, and it is so rewarding to see the students accept the dictionaries and immediately dive in and start looking up words," said Kiwanis member Louis Logan.
"I can't wait to show my mom and dad, and we can look up words together!" said Knolls Vista Elementary third grader Laurissa.
"The dictionaries that are provided by the community Kiwanis is a valuable tool for the students to use and assist them in meeting expectations in both reading and writing," stated Garden Heights Elementary third-grade teacher Karin Smith. "We appreciate and look forward to their gift every year!"
"I love when students get excited about having their own dictionaries," said Park Orchard third-grade teacher Kelly Sackmann. "It is so thoughtful of the Kiwanis Club to help our students. As third-grade teachers we are able to practice looking up words using the dictionaries. The vocabulary in our daily writing assignments becomes more interesting because of using the dictionaries."
Reading is the most important skill of all and is the starting point for all the economic and social opportunities this world has to offer, according to a teacher. Educators see third grade as the dividing line between "learning to read" and "reading to learn."
Every year, the Dictionary Project grows and expands its pool of sponsors worldwide, resulting in more children reaping the benefits of expanding their world through reading.
The Dictionary Project is a non-profit charitable organization based in Charleston, S.C. It was founded by Mary French in 1995 to provide personal copies of dictionaries to third-grade students to use as their own, personal reference books.
To date, more than 16 million dictionaries have been donated to children worldwide.
Project organizers believe dictionaries are essential tools for a quality education and that a student cannot do his or her best work without one. A dictionary in the home serves as a resource for the whole family. It improves everyone's vocabulary and encourages children to learn more words.