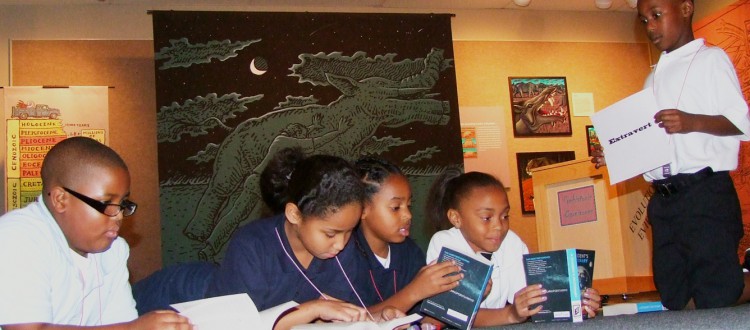 Rotary Club distributes dictionaries to all Port Arthur third graders
For the past 8 years, the Rotary Club of Port Arthur has distributed dictionaries to every third-grade student in Port Arthur. The student dictionaries are more like encyclopedias – in addition to a dictionary, they also contain information about the 50 United States, the countries of the world, the planets of the Solar System, the Presidents of the U.S., the Declaration of Independence, the Constitution, and much more!
This fall, Rotary continues that educational project in partnership with MOTIVA and the Museum of the Gulf Coast. All 8 elementary schools in Port Arthur will visit the Museum this fall for a special hands-on tour of the permanent exhibits as well as the traveling exhibition "Cruisin' the Fossil Freeway." Representatives from the Rotary Club as well as MOTIVA volunteers will be on hand after the tour to hand out dictionaries to each student. Tours began October 19 with students from Booker T. Washington Elementary.
Present for the distribution were: Cecil Balzersen; Craig Noble, Rotary President; Perry Snell; Joci Snell; Shannon Harris, Director Gulf Coast Museum; Rocio Barberena, Motiva; and Becky Demeter, Motiva.