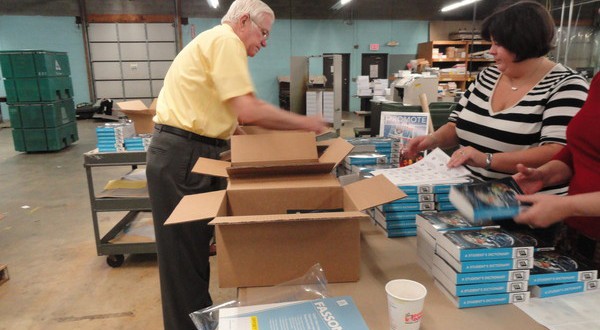 Rotary Club preps dictionaries for local schools
The Rotary Club of West Anne Arundel County will deliver more than 1,200 dictionaries to students at local elementary schools next month, as part of its support of literacy programs.
The club gathered at Revere Printing in Odenton Thursday to prepare the books for delivery. Students at 15 schools, including the five in the Arundel cluster, will get the books and will be permitted to keep them.
Club president Peter Grayson said the group has been donating the books each year since 1994, as part of a global effort to promote literacy.
"This matches with that pillar," he said. "It's also fun, and is a way to get us personally into the community and the schools."
The dictionaries are produced by The Dictionary Project, an organization founded in 1992 with a goal of providing a dictionary to every student in the United States. Since the first dictionaries were delivered in 1995, the group has partnered with local organizations to provide 16 million dictionaries to students.