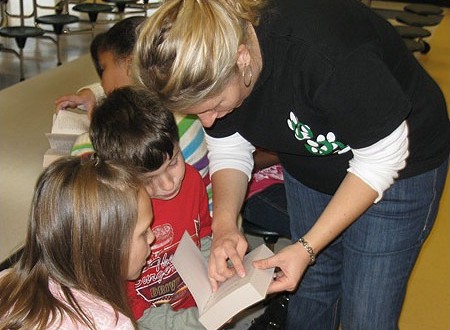 Barrow County Schools' dictionary project
October 31- November 4 was Dictionary Week for all Barrow County Schools' third graders. According to The Dictionary Project, the goal of the program is to help all students become good writers, active readers, creative thinkers, and resourceful learners by providing them with their own personal dictionary.

The Dictionary Project was started in Barrow County, GA, in 2002 by the Omicron Chapter of Delta Kappa Gamma, an International Society for Key Women Educators. Barrow County Schools sends a big "thank you" to Shelia Hawthorne, our "dictionary lady." Shelia works tirelessly each year to coordinate the efforts of all of our sponsors.
Third graders are targeted for the project because dictionary skills are usually introduced at this level, and this is also considered by many educators to be the dividing line between learning to read and reading to learn. This year 1,032 regular encyclopedic dictionaries and 86 English/Spanish dictionaries were dispensed to the eight elementary schools. There were 14 civic and school groups that sponsored the project this year. We want to thank our sponsors for their generous donations to our third-grade students. This project truly touches so many students in Barrow County and provides them with a resource they can use throughout their lives.
This year's sponsors:
Auburn/Carl Lions Club
Winder Kiwanis Club
Winder Barrow Coalition for Adult and Continuing Education
Barrow Regional Medical Center Auxiliary
Pilot Club of Winder
Winder Noon Lions Club
Winder-Barrow High School Student Council
Barrow County Farm Bureau Women's Committee
Rotary Club of Winder
Winder Lions Club
Beta Zeta Chapter of Alpha Delta Kappa
Apalachee High School Student Council
Omicron Chapter of Delta Kappa Gamma
Woodmen of the World