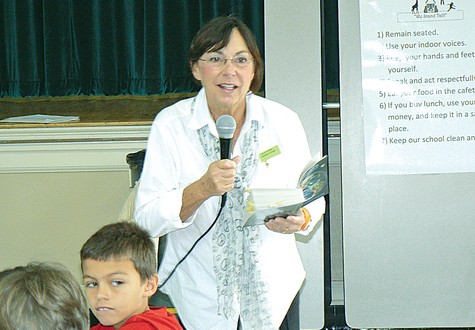 Defining the Dictionary Project
Watching Mary Donaruma captivate and engage a kid-filled audience, it's not hard to imagine her in front of a classroom. In fact, the Branford resident is a retired Branford Public Schools teacher of 20 years, and that's why chairing the Branford Rotary's Dictionary Project is such a good fit for this Rotarian.
"I love books and I love working with kids," says Mary, who taught math and social studies at Walsh Intermediate School until retiring four years ago. "I knew about the great programs of the Rotary because of my husband [past president Bill Donaruma]. I joined Rotary as soon as I retired and one of the first projects I worked on was the Dictionary Project."
Mary has chaired Branford Rotary's Dictionary Project for three years now. The project puts a new dictionary in the hands of every Branford 3rd grader and has to date supplied dictionaries to 2,064 Branford kids. The books are purchased by Branford Rotary as part of Rotary International's literacy initiative.
Last week, Mary visited with 3rd graders to share the wonders of their new gift, a hefty paperback dictionary. Books were given to all 3rd graders at Sliney, Tisko, Murphy, and St. Mary's schools.
"I like going through it with them, showing them how to use it, or helping them find out how to say a word. It's very important for them to have those skills. This book also has so many interesting things in the back, like the Constitution. There's a lot in there. We're hoping the children are all getting different things out it."
A lover of books, Mary's not only on the Rotary board, but she's also on the board of the Willoughby Wallace Library. As a grandmother of (soon-to-be) eight, she's a giver of books and champion of the importance of not only reading, but learning from reading, as well.
"Often it's not the novel, but the background in it, that helps you learn about the world. When you read biographies, you're discovering new things about people who are well-known. Historical novels take you to places in the world you haven't been."
Mary and Bill moved to Branford 40 years ago, raised their kids here, and enjoy traveling to visit them out of state. A member of Guilford Choral and Con Brio (soprano) Mary's traveled to Italy to sing with the renowned a cappella group and will head for Spain with Con Brio in the spring. But right now, she's enjoying traveling to Branford's schools to deliver dictionaries to some pretty happy recipients.
"You hand it to them and quite often, you'll hear them say, 'Is this for me? Do I have to share it with my brother?' They're very surprised they're not leaving it in the classroom and that they own it."
Each book comes with a name plate that also includes the Rotary creed of "service above self" in the form of "The Four-Way Test"-are the things we say, think, or do the truth; fair to all concerned; capable of building good will and better friendships; and of being beneficial to all concerned?
"We have this up at every Rotary meeting," Mary says of the test. "It's Rotary's way, but it certainly fits for children, too."
On her Dictionary Project visits, Mary's joined by members of Rotary who also meet the kids and talk a bit about what Rotary does in this community. At Sliney last week, kids raised their hands in response to whether they'd ever eaten a Branford Festival pancake, hotdog, or hamburger; played on the Branford Point playscape; or enjoyed the annual Holiday Parade and/or Soundview Y/Rotary Walk-Run-just a few Branford Rotary projects and initiatives woven deeply into the fabric of this community.
"We do a lot in this community and beyond," says Mary, who's now working to help Branford Rotary initiate another literacy project, supporting Room to Read.
"It's a program started for mostly girls without access to books, which builds a small hut, gets books to fill [it], and gives them an actual room to read in. I want to find and help sponsors of it in the U.S. We can get hands-on grants for them, through Rotary. I would love to bring books, or even help build one!"