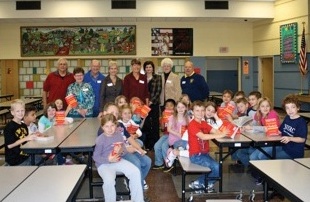 Dictionaries promote literacy at Wightman Primary School
The Bath Rotary Club has joined with other Rotary Clubs in New York State and throughout the United States to improve literacy and the quality of life in local, national, and international communities through its Dictionary Project. October is National Information Literacy Awareness Month. In today's digital world, people who are information literate know how to find, access, and critically evaluate information to improve their health, their environment, their education, and workplace performance.
Becky Stranges, Dictionary Project Chair for the local club, along with other Bath Rotarians, June Bates, Al Johnson, Robin Lattimer, Dave Stewart, Elaine Tears, and Neal Wrinkle, recently delivered copies of student dictionaries to all third graders at the Vernon E. Wightman School in Bath. The books will inspire the students to learn and to sense a pride of ownership; for many students this dictionary is the first book they have ever owned. Its usefulness extends beyond the spellings, pronunciations, and definitions it lists.
The goal of the Dictionary Project is to assist all students in completing their school years as good writers, active readers, creative thinkers, and resourceful learners. The dictionary, a gift to each student to use at school and at home, is perhaps the first and most powerful reference tool that a student should own. In addition, students benefit from an increased self-reliance and resourcefulness inspired by the maxim "look it up". Teachers benefit by knowing that their students have consistent access to a tool for homework and in-class explorations.
Receiving the dictionaries from Rotary members is also beneficial to students in that it allows them to meet successful adults in their community who care enough about them to come to their school to present the books to them personally. Hopefully, the students will benefit not only educationally but also will realize the importance of service in their community and around the world.
In order to promote literacy, highly valued by Rotary District 7120 Governor, Norma Madayag-Reilly, books, donated by local Rotarians, will be given to the local library or some other institution or organization in honor of the speakers at the club's weekly luncheons.
Rotary, the world's first service club, as well as the largest, with over 1.2 million members in more than 200 countries and geographical areas, is an international organization of business and professional leaders who provide humanitarian service, encourage high ethical standards in all vocations, and help build goodwill and peace in the world. The Bath Rotary Club, chartered in 1923, is proud to follow the ideal of "Service Above Self".