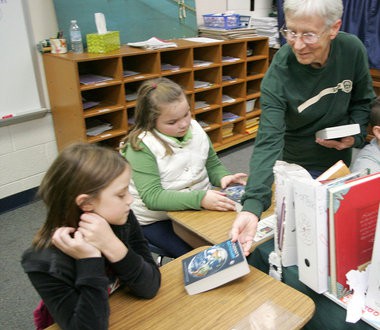 Grange members give dictionaries to Kenowa third graders
Third graders at Kenowa Hills' Alpine, Central, and Zinser elementary schools in Walker all received dictionaries recently thanks to members of the Kinney Grange No. 754 of Walker.
Grange members working through The Dictionary Project gave away 225 dictionaries, according to Luanna Swainston, of Byron Center, the community service coordinator for the Kinney Grange. "We have a booth at the Grand Rapids Festival of the Arts to raise money for this project," Swainston said.
This is the second year the Kinney Grange has worked with the national Dictionary Project. Its goal is to put a dictionary into the hands of every third grader in the country.

"We sincerely appreciate the support the Grange has given our third graders," Kenowa Hills Superintendent Gerald Hopkins said. "I can think of nothing better to help our students become better readers and writers than to have their own dictionaries."
While the national Grange organization started out as a farming support organization 150 years ago, it is now more of a farm family fraternity, Swainston said. And she should know – Swainston has been part of the Grange for her whole life. "My parents were Grange members in Walker and I have been a member of the Grange here for 58 years," the 71-year-old Swainston said.
She said that while other Grange organizations across the country have been part of the Dictionary Project for years, the Kinney Grange only started participating last year. "We started talking about joining the project a couple of years ago and decided to start distributing dictionaries last year," she said.
This year alone the Dictionary Project will distribute more than 2 million dictionaries to third graders across the U.S. For more information, go to: www.dictionaryproject.org . For more information on the Kinney Grange No. 754, call Grange Master Harry Brown at 616-784-2928.