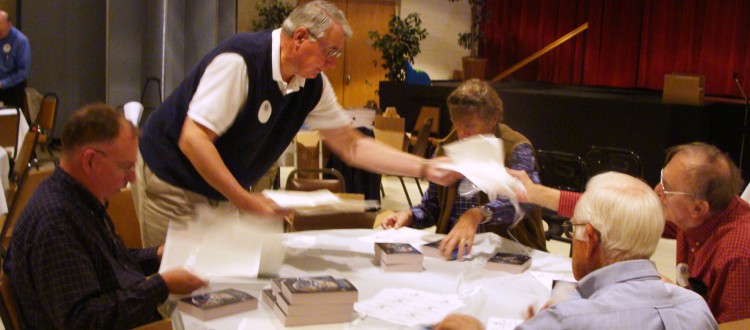 Kiwanis Club of Charlotte completes 6th dictionary project
On October 27 the Kiwanis Club of Charlotte did a club workday. Instead of the usual meeting on that Thursday, thirty members of the club, 3 members of the S.A.L.T. Key Club and their advisor, and 5 members of the Myers Park Key Club and their advisor had a quick lunch and put labels in 4,500 dictionaries to be distributed to the third graders in 35 elementary schools in the Charlotte-Mecklenburg Schools. Lunch began at 12:00. At 12:30 the group began attaching labels in the dictionaries. At 1:30 all the dictionaries were labeled and ready for distribution. Members had signed up for schools in advance so they were able to take their dictionaries with them when they left. Members began delivering dictionaries that afternoon. The goal was to get all the dictionaries delivered in one week. Approximately 75 per cent were delivered during that time frame. The rest were delivered the following week. One member stated that this was his best day ever in Kiwanis. This was a great time for the Key Clubs and Kiwanis Club to do a project together. This is the 6th year that the club has given dictionaries to the third graders in the Title I Schools in the Charlotte Mecklenburg Schools. Club Member John Crapster was the Chairman of Dictionary Project.

The members of the club had a lot of fun going to the schools and distributing the dictionaries to the classrooms. The members are given the opportunity to share their experiences in our regular club meetings. Shortly we will be receiving hundreds of thank-you notes from the students and the schools.
Some of the many, many thank-you letters received by the Kiwanis Club of Charlotte:
"Dear Kiwanis Club of Charlotte,
Thank you for these dictionarys they will help us with school and homework. You are very kind people. Right now im useing it it to help me with words and to understand what im writeing. This will tech me sign language to and the longest word in the english language. plus some planets. This dictionary mite help my mom to with her work. If you ever visit us I will still have this dictionary in my hands loveing it with joy and happyness.
Love, Olivia"
"Dear Members of the Kiwanis Club of Charlotte,
On behalf of the third grade teachers here at Nathaniel Alexander Elementary School as well as our precious third grade students, we just wanted to send out a sincere and heartfelt thank you for the dictionaries that you so graciously donated. Our students appreciate them and are excited to begin using them! They will be using them nightly as they look up vocabulary words when they read, as well as for homework in defining vocabulary words to practice for the End of Grade tests at the end of the school year.
Again, we just wanted to say thank you so much!
Love,
The Third Grade Teachers"
"Dear Kiwanis club,
I would like to thank you for giving me a dictionary. I could use it for words that are teacher asighneds us to do the definition!
My sister doesn't have one so i could tell her new words. I think this book will be realy helpful to me
Your new friend,
Fernando"
"Dear Ms. Daley,
The third graders at Sedgefield are extremely grateful for the generous gift from your Kiwanis Club. You would have been so pleased to have seen the smiles when each student was given a dictionary and told that it was theirs to keep and even take home at the end of the year. Many carried them around for several days and looked up words they did not know. At this grade level, and moving forward, increasing students' vocabulary is extremely important and in this Title I school, it is essential.
We try to instill in them a love for not only reading, but for our English language, and the knowledge and power of words. The immediate 'thrill' may subside, but they will find a use for that dictionary well into the future. It began with your gift and for that we again thank you.
Sincerely,
Ms. Sandy Garner
Third Grade Teacher
Sedgefield Elementary, a CMS school
Charlotte, NC"