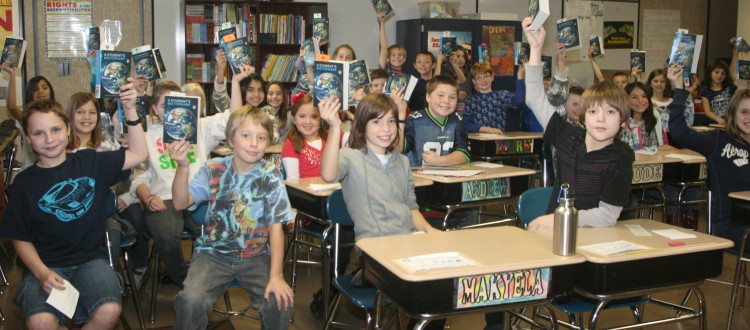 Lions Club distributes reference books
An effort to see that students throughout the world receive dictionaries began in 1995. Among distributors are local Lions Clubs and Grange chapters.
Before 2010, Key Peninsula students received dictionaries from the Gig Harbor Grange, which no longer provides them on the Key. This year, the Key Peninsula Lions Club distributed 192 copies of Webster's Dictionary/Thesaurus to language arts classes at Key Peninsula Middle School, and 336 copies of A Student's Dictionary to each third- and fourth-grade student in Evergreen, Minter Creek and Vaughn elementary schools.
Worldwide, more than 2.4 million books were distributed last year. Some 300 groups and organizations in Washington state alone, including 30 Lions clubs, participate in the program.
"The goal is to see that every student receives a dictionary at a grade level where it helps develop communication skills throughout their school career and lifetime," said George Robison, who promoted the program with the Key Peninsula Lions.
The cost to the KP Lions, $1,162, provided a resource to schools and students for free. It will be an annual project of the KP Lions along with the club's annual American Flag distribution program, which started last year in third grades in KP elementary schools. The flag project is staged near Veterans Day each year.
"The dictionaries will help us a lot," Evergreen fourth grader Forrest said. "If we forget a word, we can look it up in our dictionary."
Landon, also a fourth grader at Evergreen, said dictionaries are good ideas because students don't know how to spell everything.
"I got to admit, this is one of the best books I've got!" he said.
"They will be helpful when we write," said Morgan, another fourth grader at Evergreen. "Now we won't have to ask our teacher how to spell words. We love our new dictionaries."
Vaughn Principal Susan O'Leary said community support helps to make the school unique.
"We appreciate the partnership with the KP Lions," she said. "It has done so much to support our school. The dictionaries are just one example of the phenomenal support we receive."
Vaughn fourth grader Ashley said she loved her new dictionary.
"Did you know that abdication means a surrender or abandonment?" she asked. "'Cause I didn't, until I passed the word looking for the word appreciate. The minute you guys left, we got an assignment to look up four different words!"
Alexis, also a fourth grader at Vaughn, found an interesting one.
"And guess what?" she asked. " 'Dictionary' is on page 96. And 'guess' is on page 145. I know I will use the dictionary more than you think. I will keep it until my life is over. When I grow up, I will use the dictionary with my job. I plan to be an artist. 'Artist' is on page 26 in the dictionary."
Key Peninsula Lions President Neal Van der Voorn said he's pleased with the program.
"We can make a big difference in the community as I have discovered since retirement," Van der Voorn said. "The KP Lions and the dictionaries is a great example."
Key Peninsula Middle School Principal Jeri Goebel said students had to share dictionaries last year.
"Some of our dictionaries didn't have the word 'computer,' " Goebel said. "They were outdated and not enough to help the students on the writing test on the MSP and for daily classroom use. Now we have enough for every language arts class!"
Minter Creek Principal Steve Leitz said his school's students were thrilled to receive them.
"They eagerly wrote thank you letters which (were) presented in book form for the Lions' enjoyment," Leitz said. "During my classroom walk-throughs, students pull out their dictionaries and proclaim, 'Look what I discovered!' and show me something they've learned from their new books."
Hugh McMillan is a longtime freelance writer for The Peninsula Gateway. He can be reached at 253-884-3319 or by email at hmcmnp1000@centurytel.net.
Read more: http://www.thenewstribune.com/2011/11/23/1918390/lions-club-distributes-dictionaries.html#ixzz1f8R83PHd