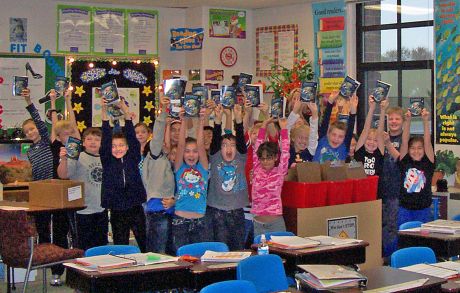 Rotarians serving the community
Rotary Clubs exist to serve the communities they are in. Since 1974, Darien and Lemont have been served by the Rotary Club of Darien, which on November 15 completed their sixth annual dictionary project. This project, part of Rotary's effort to promote education and literacy, gives each third grader in Darien and Lemont schools their own dictionary.
"In first and second grade," said club member and Past District Governor Brian Andersen, "Students learn to read. In third grade, they start reading to learn." By personally distributing dictionaries in the classrooms, the Rotarians give the students a valuable aid while impressing them with the importance of education.
This year's program involved eight Rotarians visiting all six area schools. 500 dictionaries were distributed in Darien and 280 in Lemont. Since the program's inception, over 4,500 dictionaries have been distributed to nine schools. Rotarians involved in this year's project were: Bob Carlo, Tom Ostrowski, Joan Wayman, Frank Burns, Randy May, Kellie Henry, Halil Avci and Chris Reilly. The club funded this and other projects via their annual auction.
For more information about Rotary, including how to join, visit www.darienrotaryclub.org or contact Chris Gerrib at 630-434-5075. For more information about the national dictionary project, visit www.dictionaryproject.org.