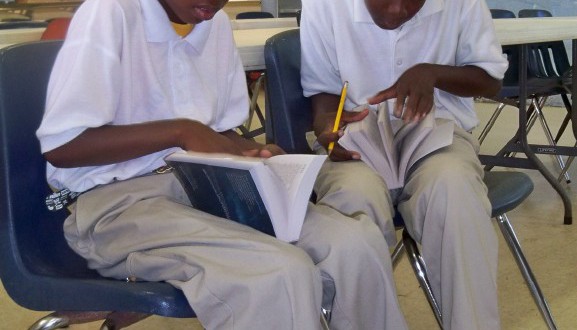 Virgin Islands third graders given gift of word power
Bright and early Monday morning, 42 third graders at Claude O. Markoe Elementary School filed quickly and quietly into the cafeteria to receive their own, personal dictionary to enrich their school career.
In what has become a tradition since 2003, the Community Foundation of the Virgin Islands (CFVI) gives dictionaries to third graders in private and public schools territory-wide.
"We enjoy the enthusiasm of the third-grade students and teachers who use these dictionaries with passion," said Gretta Moorhead, who spearheaded the distribution program.
Moorhead, a former English teacher in the St. Thomas public schools, said third grade was identified as an ideal time to capture and focus a child's excitement and curiosity about words and language.
"Children at this age have the reading maturity to use a dictionary as a learning tool," Moorhead said. "And they are becoming independent learners."
Faith George, assistant principal at Claude O. Markoe, said the dictionary will help the students with vocabulary, phonics, word building and spelling. She told the students maybe they can even take their dictionary with them when they go to college.
Rotarians Devorath Elcock, secretary, and Marion Baptiste, Literacy Project coordinator from the Rotary Club St. Croix Harborside, passed out the dictionaries to the students at Claude O. Markoe. They also gave out 65 dictionaries to students at Alexander Henderson Elementary School.
"This is a very worthwhile endeavor supporting the students in their academic career," Elcock said. "Literacy is a major focus of Rotary."
Estelle McIntosh, honorary Rotarian, former teacher and Beacon School site coordinator at Claude O. Markoe, said the teachers really appreciate the dictionaries because students can take them home and use them for their homework. McIntosh said, as a teacher, she appreciates that the children are learning to use the dictionaries.
"I am happy to have my own dictionary now," said Markoe third grader O'Desha.
Moorhead established the Dictionary Project Fund in 2002 as a permanent fund at CFVI. The original goal of the fund was to distribute dictionaries annually to every third-grade student in public schools. This goal has been surpassed, and CFVI now gives dictionaries to all non-public school third graders as well. Moorhead said they distribute 900 paperback dictionaries on St. Croix.
Baptiste said she plans on giving a few dictionaries to interested inmates at Golden Grove Adult Correctional Facility.
Moorhead said the program has been successful because of the volunteers and community donations. The program is funded totally by donations, and the dictionaries are purchased through the national Dictionary Project in Charleston, S.C.