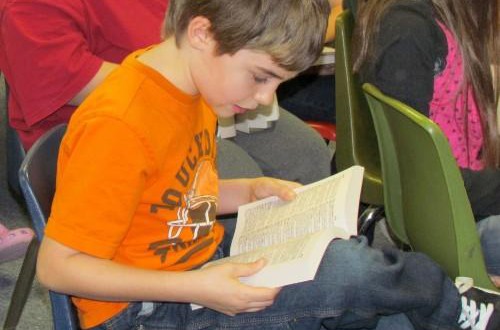 Words for Thirds inspires children's love for reading
What's black and white and read all over? Answer: the free dictionaries that Valley Grange delivered to third grade classes in Milo, Brownville, and Lagrange on Nov. 18. The wiggles, giggles and smiles of the youngsters proved that good old-fashioned books can still create "wows" when competing with iPads, Wiis, and other electronic gadgetry.
The Dictionary Project is a 501(c) (3) nonprofit organization located in South Carolina that raises money to provide third graders with a free Webster's Dictionary for Students. Their goal is to help teachers encourage students to become good writers, active readers, and creative thinkers. They have presented almost 17 million dictionaries to children across the U.S. since 1995.
The National Grange participates in The Dictionary Project through its Words for Thirds program. Valley Grange's local efforts cover SAD 4, SAD 41 and SAD 68—an area stretching from Monson to Lagrange to Cambridge. The delivery of dictionaries to schools in SAD 41 marked the end of this year's Dictionary Days.
At Milo Elementary, third grade teachers Andrea Mills and Debbie Dunham had 43 children who were anxiously anticipating their new dictionaries. Walter Boomsma, Valley Grange's Program Coordinator, and Grange Master Jim Annis introduced themselves to the youngsters. Boomsma's kid-friendly explanations and calm approach created an atmosphere reminiscent of "Mr. Rogers' Neighborhood." His simple strategy to keep their attention worked like a charm.
"I have a little thing I like to do with kids when we get together like this," he explained. "You're going to forget to pay attention to me sometimes; I expect that. So here's what I do. When I say 'one, two,' you say 'eyes on you,' and your eyes come up here on me." After using that tactic successfully several times, Boomsma turned and remarked to the teachers with a note of surprise, "That really works!"
He began by telling the children a little bit about the Grange's background, and introduced some tools that farmers used years ago, including a shepherd's hook. Boomsma started to illustrate how it was used, and said, "If Jacob here was a sheep … ," and Jacob immediately corrected him by saying, "a ram."
Boomsma explained to the class that the Grange was responsible for beginning the campaign for Rural Free Delivery of mail in the 1870s so farmers didn't have to drive to town every day. Using a mailbox that he had brought as an illustration, he delivered two letters to the class after dividing them into two teams. Each of the letters contained a word for the team to look up: "patron" and "husbandry," two words in the organization's logo.
"What would you do if you had a word and you didn't know what it meant?" Boomsma asked. "You could ask someone else, or you could look it up in the dictionary—but you don't have one." That was when the excitement level rose as students pointed at the stacks of red dictionaries on the table behind him.
"You can give us those!" they shouted. As the leaders passed the books out, Boomsma told the children they could keep the dictionaries forever, which caused excited murmuring throughout the room. They had a chance to practice looking up words by racing to see who could find them first.
Third grader Selena held her new book tightly as she shared her new knowledge. "I learned more about dictionaries. I learned about farms and about the mail boxes- that farmers didn't have mailboxes back then, like a hundred forty-something years ago." Glancing over at the tools, she added, "I learned what those farmer things do. I felt happy when I got my dictionary."
For more information on Valley Grange and the Words for Thirds project, go to http://valleygrange.wordpress.com. Other organizations can learn how to become involved in The Dictionary Project through their website http://www.dictionaryproject.org.