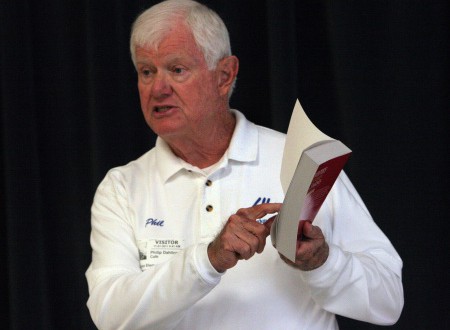 Students receive the gift of words
Zephyrhills Elks Lodge 2731 continues a dictionary-giving tradition.
As a former English teacher and a superintendent of schools in Vermont, New Hampshire and Maine, Philip Dahlinger was at ease addressing students in the cafeteria at Chester Taylor Elementary School.
Particularly because he and his cohort, Robert Cherry, had a gift for each and every one of them: a brand new Webster's Dictionary that they could write their name in and hopefully put to good use in the years to come.
"You're in third grade now, but in nine years you'll be seniors," Dahlinger told students before they lined up to receive their books. "We hope you will still have these dictionaries then and that you will take good care of them."
About 530 third graders at four local elementary schools recently received the gift of words courtesy of Zephyrhills Elks Lodge 2731.
The Elks organization, which hosts local hoop shoots and is the second-largest giver of scholarships in the world, is in its third year of promoting literacy locally by giving dictionaries to students, this year at Woodland, Chester Taylor, West Zephyrhills and Centennial Elementary Schools.
The Elks are just one of many civic groups to join the Dictionary Project by providing funds and distributing books in their local areas. The project dates back to 1992 when Annie Plummer of Savannah, Ga., gave 50 dictionaries to children in local schools. It grew from there, attracting the attention of Bonnie Beeferman of Hilton Head, S.C., in 1995, who started selling crafts to raise money for dictionaries for schools in her area. Since then, some 16 million children have benefited. While some fourth and fifth graders have been recipients, third graders are typically the targeted audience because that is when dictionary skills are traditionally taught and when students begin to apply reading skills to learn other subjects.
No doubt the dictionaries will be put to good use, even for a generation that is growing up with spell check on their computers, Dahlinger said.
"I used to be an English teacher so I love my dictionaries," he said. "They have the words spelled correctly and they are broken up phonetically. But wait till the kids start looking through and get to the back and find that there are weights and measures in there, too — all the presidents of the United States, the state capitals and world maps."
"We'll definitely use these in the classroom," said third-grade teacher Sonya Wilson. " It helps with reading comprehension, and we have new vocabulary words to learn every week, so we'll be using them for that."
"This will help me with my work," said Presley, 11, as he flipped through the pages.
"It's pretty cool," added Amber, 8. "I'll use it to study."