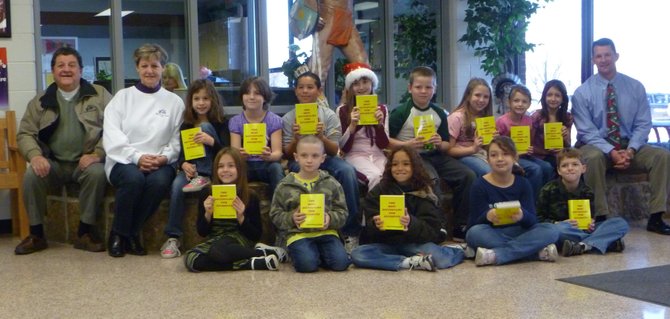 Lake of the Ozarks Elks Lodge dictionary project helps two local schools' students
On Dec. 7, Sam Sunley, Exalted Ruler, and Bonnie Urish, Chairman of Trustees, of the Elks Lodge of Osage Beach # 2517 presented dictionaries to third-grade students at the School of the Osage Upper Elementary and Camdenton School District Osage Beach Elementary.
Every third-grade student received a dictionary for their own personal use that they will be able to use for a lifetime.
The sole mission of the Dictionary Project is to reach every third-grade student in the United States in efforts to help children throughout America discover the power of knowledge and words.
As of October, the Dictionary Project has reached an estimated 1,441,994 students this school year. Cumulatively, they have been able to reach an estimated 16,315,902 students. Of these, 384 were sponsored by the Lake of the Ozarks Elks Lodge # 2517.
This is the second year for the Elks to present dictionaries to students at Osage Upper Elementary and the first year for Osage Beach Elementary.
For more information about the Elks' Dictionary Project, contact Bonnie Urish at 573-480-7611.