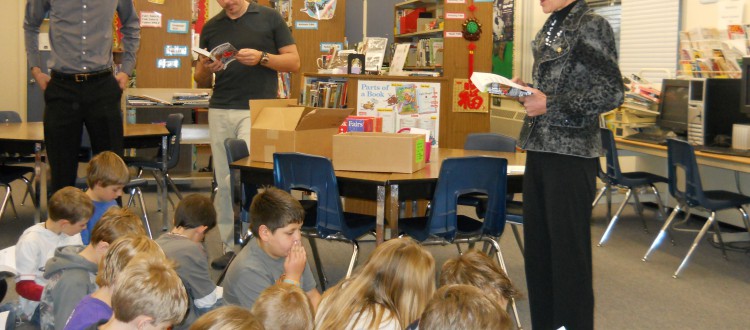 Thames Valley students receive dictionaries from Rotary Club
What a gift our Club gave to the community this fall through the Dictionary Project! The Rotary Club of London was delighted to distribute 1,047 dictionaries throughout the Thames Valley Region as part of our Club's local community literacy initiatives. Literacy was identified as a priority for our Club in 2009 and we have been working hard ever since to ensure the greatest return on our investments.
What better opportunity could there be than The Dictionary Project? This is another incredible example of Rotary's power to leverage dollars for maximum impact. Rotary of London Club member Janet Tufts saw the impact firsthand when she had the opportunity to give the 'gift of reading' to 45 grade 3 students on October 17.
"To hear each little voice say 'thank you' as a book was placed in their hands was a truly satisfying experience for me," said Janet. "And to be honest, in today's computer-driven world, I have to say that I was a little surprised by the enthusiastic response of the students to receive such a simple, and perhaps old-fashioned, learning tool. It made me proud and grateful to be a member of a service organization so rooted in basic values, truths and traditions."
Thank you to The Dictionary Project for the brilliant opportunity to stretch our support beyond what we could do as a single Club on our own. The Rotary Club of London looks forward to participating again in 2012.