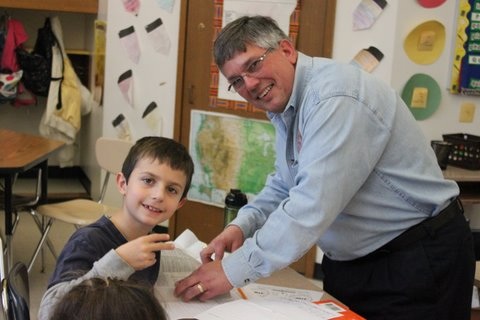 Syracuse firefighters donate dictionaries to students
Syracuse firefighters visited the third-grade classrooms at Roberts Elementary School on Glenwood Avenue to give each child a dictionary. Syracuse Fire Fighters Association Local 280 IAFF President Jim Ennis and Vice President John Kresser joined firefighters from nearby Fire Station 3 to hand out books to the students as part of "The Dictionary Project" sponsored by the Corporate Volunteer Council in partnership with the United Way of Central New York.
"For many students the dictionaries are the first books they've ever owned," said Jim Ennis. "The smiles on the student's faces really made our day."
Students were asked to "try out" the new books by finding the word "extinguish." Once they found the word, the firefighters taught a lesson on fire safety.
The Syracuse Fire Fighter's Association has participated with "The Dictionary Project" for the past five years and has contributed $250 each year toward the purchase of the books, which contain a plate for each child to print their name.
Initiated in 2006 by Corporate Volunteer Council, the goal of "The Dictionary Project" is to provide a dictionary to every third-grade student enrolled in each of the 20 City of Syracuse elementary schools. Each school is matched with a local sponsor. Over 10,500 dictionaries have been distributed to students to date.