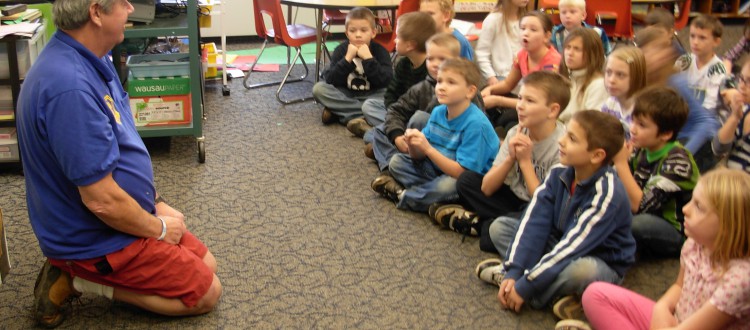 Warner Grange brings smiles to third graders
There's nothing like a smile of a third grader to brighten your day. Warner Grange members were happy to bring those smiles to nearly 200 students in recent weeks with donations of dictionaries as part of The Dictionary Project. Thursday December 14th, members carried boxes of dictionaries into Carus Elementary and Philander Lee Elementary, both part of the Canby School District. More than 100 students at Mill Park Elementary in Portland, Oregon, received their donations on Friday, November 18th. The final school that this group supports, Portland Lutheran Elementary, will receive their dictionaries next month.
Marilyn Wood, Principal of Lee Elementary in Canby School District, was delighted to arrange the donation presentation between Warner Grange and the third-grade students. She and the staff expressed their appreciation for the dictionaries, indicating these would be very helpful to supplement the needs of students and teachers. Reception at Carus Elementary and Mill Park Elementary were equally as thankful.
Many students do not have their own books at home, let alone a resource book like these dictionaries. Every third-grade student received their very own dictionary. Teachers use them in class to teach students how to navigate the dictionary and use other resource materials to support reading and writing. Students then get to take them home at the end of the school year. Warner Grange is happy to help students and teachers at local elementary schools with donations of dictionaries for the sixth year.
In addition to the dictionaries this year, students also received a copy of "A Grange Story" comic book. A new publication created by the National Grange to tell the story of how the Grange organization helps a young mouse make new friends, become more confident, grow leadership skills, and support their community. More smiles and excitement appeared when the students learned they got their own comic book in addition to the dictionaries. And the smiles were contagious among teachers, office staff, and the Grange members who have the honor of making these donations year after year.
Warner Grange was established in 1874 and has been serving Canby, Oregon City, and surrounding areas since. The Grange is a non-profit organization with focus on community development, fellowship activities, leadership development, agricultural advocacy, and legislative action. Warner Grange is actively seeking individuals and families for membership. For more information visit www.clackamasgrange.org or contact warnergrange@gmail.com.