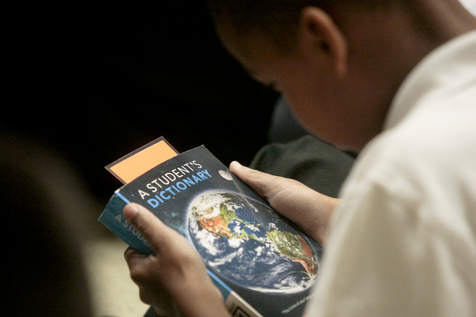 AT&T Pioneers group gives students the gift of words
Students at Little Fort Elementary School went home to fuel for a stronger vocabulary this week after a visit from the AT&T Pioneer Volunteer network, a service organization for active and retired telephone workers that participates in The Dictionary Project.
Some 180 copies of "A Student's Dictionary" were distributed to Little Fort third and fourth graders in a visit set up through one of the students in teacher Flo Rios' classroom. The free dictionaries are intended to not only be used in school, but to be taken home for the students to keep.
The non-profit Dictionary Project was started in Georgia 20 years ago when a Savannah woman handed out 50 dictionaries to a school near her home. The effort now stretches nationwide, with an estimated 17 million students receiving books over the years.
AT&T Pioneer Volunteers is among the participants in the book distribution, having handed out more than 59,000 in 2010 alone. The group is also involved in various educational, environmental, human service, health and life-enrichment programs. Formerly known as the Telephone Pioneers of America, the national organization celebrated its 100th anniversary in 2011.
Along with a working vocabulary for the third-grade level and up, "A Student's Dictionary" also includes the Constitution of the United States, the Declaration of Independence, brief biographies of all U.S. presidents, world maps, and information about all 50 states, countries of the world and the planets in the solar system.