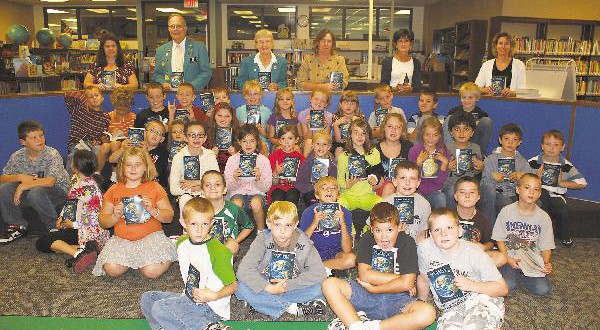 Dictionary Project helps third graders
A project that aims to get a dictionary in the hands of every third grader all started with a little southern hospitality.
The Dictionary Project began in 1992, when Annie Plummer, a Savannah, Ga., native, gave dictionaries to her young students. But the initiative, which is now a national non-profit organization run by Mary French, received help in its early days from the Ticonderoga Elks.
David Carr, a Ti Elk member, first introduced the project to the fraternal organization. After being elected president of the national organization, the reins were handed over to Richard Nadeau of Ticonderoga.
"We look forward to bringing the dictionaries to the third graders. They are very receptive," said Nadeau, who is the coordinator for this area.
The Ti Elks serve seven schools in the region: Crown Point Central, Moriah Central, Mountainside Christian Academy, Putnam Central, Schroon Lake Central, St. Mary's Catholic School and Ticonderoga Central School.
The Ti Elks fundraise in order to pay for the dictionaries. For those who donate at least $50, a label that reads "Courtesy of (donor's name)" will be placed in 30 dictionaries.
Nadeau's favorite aspect of donating dictionaries to the students is being able to hand-deliver them.
"When we go to the schools, we always do a 10-to-15-minute presentation," Nadeau said.
He tells the students to write their names in their dictionary, and then they play a game to get acquainted with their new book.
"The Elk motto is, 'Elks share, Elks care.' I ask them to spell care and share and then look it up. They read the definitions out loud and figure out which form of the word they're looking for," Nadeau said.
"The funniest thing is when I ask them to turn to the last page, and they see a very long word, and I ask them to pronounce it. It usually lightens the mood," he said.
The Elks even donate Spanish-to-English and French-to-English dictionaries.
"Third graders are so bright-eyed; they can't wait to get their hands on a dictionary. They are precious," Nadeau said.
In this digital age, some people have asked Nadeau why he bothers with the books. Computers and smart phones with dictionary apps seem to have replaced the paper version.
"Spellcheck won't teach you English," Nadeau replied. "The kids really like them (the dictionaries). I've been told by teachers that they've had to take them away and put them in a shelf during math class."
Knowing that the students appreciate the dictionaries is a big motivator for the Ti Elks. "We keep a book of thank-you notes in the Elk lodge. It's great to read, and it also encourages people to donate," Nadeau said.
The children showed how thankful they were this past Thanksgiving by helping the Ti Elks collect food for their annual food drive.
"There is a satisfaction you get when you do something for someone who appreciates it. I've been stopped in the street and even in church by kids who say they love their dictionary," Nadeau said.
The Ti Elks Dictionary Project uses "A Student's Dictionary & Gazetteer" for its comprehensive material. It includes more than just definitions; inside its pages, students can find the periodic table, short biographies of all the U.S. presidents and statistics for each state, maps, a picture of the solar system and more.
Around June, Nadeau personally sends a letter to schools in the region, asking for a head count of the incoming third-grade classes.
By the end of September, the children will have a brand-new dictionary they can call their own.