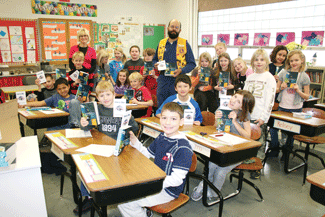 Personal dictionaries spell success for third-grade students
Third-grade students at Spring Grove Public School received a gift that will last them a lifetime – their very own dictionaries.
The dictionaries were given to the students by the Spring Grove Lions Club. They worked with the non-profit organization, Dictionary Project, to make this donation possible.
The Dictionary Project's website (www.dictionaryproject.org), states, "The goal of this program is to assist all students in becoming good writers, active readers, creative thinkers and resourceful learners by providing them with their own personal dictionary."
The project is nationwide and also in a few foreign countries. Third-grade students are the target for the dictionaries, but the Dictionary Project also has items for older students as well as adults that are learning English as a second language.
Since the project began in 1995, they have given more than 16 million children dictionaries through the help of sponsors like the Lions Club.
The Dictionary Project's site explains why they focus on third-grade students, "We chose third grade as the year to give dictionaries to students for two reasons. The first is practical: third grade is the year in which dictionary skills are taught in most schools.
"The second is no less practical, but broader in scope: third grade represents a critical juncture in a child's education. This is the year a student makes the transition from learning to read to reading to learn.
"All formal education from this point through college is premised upon the student being able to read and to understand what he or she reads.
"If we as a community want our children to succeed in education, we must ensure that they have the resources and encouragement to become strong readers by third grade."
Spring Grove Lions Club member, Mark Deneen, presented the students with their own dictionaries that they can use at school or at home. Also given were two "Liberty Day" booklets – a pocket Constitution and a Declaration of Independence booklet.
"These two booklets are really neat," commented Deneen. "They have great information in them about our freedoms and information on government and civics that is important to know.
"I also really liked that there were little quizzes in the booklets that the students could do with each other to learn more about these topics."
The Lions Club first heard about the Dictionary Project at their Lions zone meeting. They liked the project and the group of people that it would affect.
"We would like to continue to do the Dictionary Project each year," added Deneen.
The Lions Club is a non-profit organization with the motto, "We Serve." They serve in many different capacities from helping local families that have hardships due to health issues to donating to other organizations in the community as needed.
Their annual Wild Game Feed fund-raiser is coming up Feb. 25, which is held at the Fest Building and includes a meal, games and raffles. Watch for more information in the WWW.
The club welcomes anyone that is interested in joining to attend one of their meetings. They meet most often at the Fest Building on the first Monday of each month at 7 p.m.
For questions about the Lions Club, contact club president Mark Peterson at (507) 498-5813 or treasurer Tim Bunge at 498-5970.