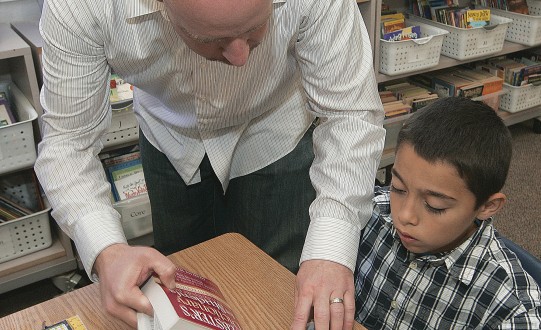 Sunset Rotary Club distributes hundreds of dictionaries to students
If you were going to give a child one book to ensure a successful education, it might as well be a book with all the words in it.
Members of the Hanford Sunset Rotary Club have been visiting elementary schools this week to give third graders their own personal dictionaries as part of an annual project. Among the many stops Thursday for club members Scott Lendrum and Steve Verschelden was a visit to Monroe Elementary School to distribute the books to the school's five third-grade classes.
"This year, and the last few years, we've bought just over 1,000 dictionaries," Lendrum said. "So every third grader in Hanford will get one from our club."
Lendrum got students acquainted with their new learning tools by seeing who could look up a particular word the fastest. Lendrum, who has been a Rotarian since the Hanford club started 20 years ago, asked them to find the word "rotary," before discussing the various definitions and how they tie in with the club's history.
"We're giving these to you to keep," Lendrum told students in Karen Bissell's class. "Inside you'll find a little sticker that says what the Rotary Club is about. And over on this side there's a line to write your name, so do that. They all look exactly alike and that's the only way you're going to know your dictionary apart from anybody else's."
Students quickly opened to the page and began signing their brand new dictionaries.
Bissell said her classroom already had a set of large dictionaries available to the class that aren't always practical for casual use.
"We pull them out occasionally, but they're too big to fit in the students' desks, so this is a really cool thing for them," Bissell said.
Brent Hanke said his class uses dictionaries for some things, but also makes use of computers for others.
"With technology, it's changed a little bit because I have all my students type out their writing," Hanke said. "After they do a rough draft, they type it on the computer. So they're also able to spell check on the computer. But dictionary skills are still important because they're tested on it and it's also a good life skill to have."
Jenna, a student in David Molina's class, said she has a large children's dictionary at home, but it's too big to take back and forth to school. She said the new, smaller dictionary will be useful for looking up unfamiliar words she comes across in class.
"I'm really excited," she said.
Mikah said he usually uses a dictionary to find and learn how to spell words. Although the dictionaries may not help his situation, Mikah has a special appreciation for good spelling.
"No one ever gets my name right," he said. "Everyone keeps on spelling it M-I-C-A-H."
Some students were just as excited about the thought of personalizing their new books as they were about using them.
"Purple is my favorite color," Leilany Aguirre said. "And now I can decorate this purple."
Since the Hanford Sunset Rotary Club began participating in the dictionary project six years ago, it has distributed more than 7,200 dictionaries to local students.
Original story: http://www.hanfordsentinel.com/news/local/sunset-rotary-club-distributes-hundreds-of-dictionaries-to-students/article_c4c2ce84-5425-11e1-9d52-0019bb2963f4.html#ixzz1mHzbnuo7