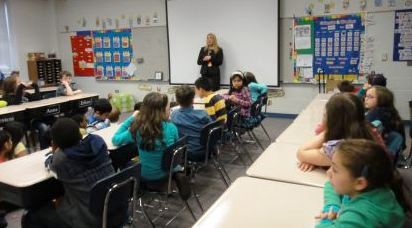 Rotary Club of Westmont distributes dictionaries to third graders
Rotary Club of Westmont members Glen Liljeberg, Tracy Valerio, and Elaine Carmichael assisted by Doug Carmichael distributed dictionaries to third-grade students at Maercker Elementary as part of our efforts to promote literacy in our community. The students were very excited about receiving the dictionaries and immediately started exploring them. One student exclaimed, "Oh, wow! You mean we can keep them?" Ms. Valerio explained that the Westmont Rotary is a group of adults who meet weekly to discuss what they can do to help others. This distribution completed Westmont Rotary's goal to get dictionaries to all third-grade students in the village. Kim Heller assisted with the distribution to Manning, Miller, Notre Dame and Holy Trinity third graders in December. Recognizing the importance of reading, Westmont Rotary brings this program to the community as part of a Rotary International initiative. An organization of 1.2 million business and professional leaders, Rotary International is active in more than 165 countries. Rotary is founded on the principles of humanitarian service, high ethical standards, building goodwill and peace throughout the world.
In addition to the Dictionary Project, Westmont Rotary sponsors international exchange students, as well as Early Act and Interact clubs at the Westmont Junior and Senior High Schools. We also sponsor numerous local events including annual scholarships for high school seniors, a Cabaret Event in November, a basketball tournament for junior high students in January, and the Helping Hands-Helping Schools program.
Our annual fund raiser, The Reverse Raffle, will be held Wednesday, April 25. To learn more about our club please visit our web site at www.westmontrotaryclub.org.