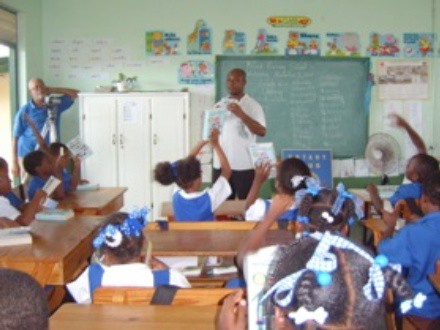 St. Lucia Dictionary Project
The Rotary eClub of the Southwest USA and St. Lucia South Rotary Club joined together to bring the Dictionary Project to St. Lucia. Mesa West Rotary Club of Arizona and Rajkot Midtown Rotary Club of India joined the project with their financial support, and their support certainly made this project a success. We worked very closely with Mary French, Director of The Dictionary Project, who was instrumental in developing and publishing a new Caribbean Island Edition of A Student's Dictionary and Gazetteer. This Caribbean Edition took about a year to complete, and it was made possible by the efforts of Mary French, Dictionary Project Inc., the St. Lucia South RC, the Ministry of Education for St. Lucia, and the Rotary eClub of the Southwest USA. The front and back covers of this Edition have the flags of all the Caribbean Islands, and it is makes the dictionary colorful and engaging. This is a British version because these Islands use British English. This Caribbean Edition received approval from the Ministry of Education, thus enabling us to conduct the Dictionary Project in the selected schools in St. Lucia South.
As many of you may know, The Dictionary Project is one of the projects of our district, District 5510 and many other Districts across the USA. As put forth by The Dictionary Project, "The goal of this program is to assist all students in completing the school year as good writers, active readers and creative thinkers by providing students with their own personal dictionary. Reading is the most important skill of all. It is the starting point for all the economic and social opportunities this world has to offer. Educators see third grade as the dividing line between learning to read and reading to learn." This dictionary contains a quote from Ludwig Wittgenstein, "The limits of your language are the limits of your world." We agree with these statements, and that is why we wanted to bring the Dictionary Project to St. Lucia South.
On November 4, 2012, my husband Richard and I flew into Hewanorra Airport in the South of St. Lucia. Omar Davis, Rotary eClub member (former member of St. Lucia South RC), picked us up at the airport and hosted us. He has a beautiful home on the top of a mountain, and the views are awesome. How fortunate for us to be able to stay here. Omar took good care of us and saw to it that we got to our appointments on time. Best of all we enjoyed his company. We are very grateful to him for wanting to bring the project to St. Lucia and for hosting us, making it possible for us to join the St. Lucia South Club in program presentations.
The dictionaries were shipped to St. Lucia, and they arrived in St. Lucia just a week before the start of our program date and our arrival from the USA. The Ministry of Education and the members of the St. Lucia South Club worked furiously to get the books cleared through customs in time to meet our program starting date.
On Sunday, November 5, we met with President Moises and Rotarians from St. Lucia South Rotary Club. We had been to St. Lucia before when I worked on a matching grant project with this Rotary Club, so we knew some of the members. It was fun seeing them again, and we enjoyed meeting the new members.
Sunday was a work day because we all had to put labels and stickers on 786 dictionaries.
The Rotarians of the St. Lucia South Club are so involved and were so well organized in every detail of our Dictionary Project. They made this task fun, and we were able to complete it all on Sunday. We were now ready to start our week of presentations.
The plan was for us Rotarians to present the program in nine schools while I was in St. Lucia. After that, the St. Lucia South members were to present to six other schools over the remainder of the Rotary year. However, at the last minute, plans changed and we Rotarians were now scheduled to present at all 15 schools while Richard and I were in St. Lucia. I am so glad we did that because it gave us a chance to meet the principals, teachers, and students of these six other schools. The principals, and teachers and students in all the schools really enjoyed the program. The new schedule was to visit and present at three schools a day, two schools in the morning and one school in the afternoon, and this would take place from Monday through Friday.
I did not visit the schools on Monday because arrangements were made for my husband and me to travel up north to Castries to participate in a radio show. We went with two St. Lucia South Rotarians, PP Julian and Dr. Ram, who were also going to be on the radio show. They spoke about Rotary and their club's accomplishments as well as their upcoming fundraiser.
The radio host asked many questions, and I was able to speak about the eClub, our relationship with St. Lucia South Rotary Club, the Dictionary Project we were doing in the south, and the financial support we received from Mesa West Rotary Club USA and Rajkot Midtown Rotary Club, India, showing how truly international Rotary is. The radio host introduced my husband Richard, and that gave me the opportunity to talk about how our spouses give of themselves to help us with our Rotary events and projects, and how much we appreciate their involvement. It was a 45-minute show, and we really enjoyed being part of the show.
I joined the St. Lucia South Rotarians on Tuesday and participated in the presentations from Tuesday through Friday. It was a lot of work but really rewarding. The climate in St. Lucia was stressful for us. The temperatures were in the 80s, but the humidity was around 95%, or at least that is the way it felt to me. Richard and I really had to get used to working in this type of climate especially because we come from Arizona where the humidity in November is 9 to 15%. There is no air conditioning in the schools. The people leave the car windows open when they drive, and for me every day was a bad hair day. Omar does not have air conditioning in his home, but we were fortunate to have fans in our bedroom. We weren't sure if we could survive that. In Arizona we use air conditioning everywhere and almost all year-round except for three months in the winter. I am proud to say we survived very well in the humidity, and I now miss the moisture of the St. Lucia air because it took our wrinkles away. Unfortunately, now the wrinkles are back.
On November 9th, I was asked to be the guest speaker for the St. Lucia South meeting. They wanted me to speak about the eClub and how we have our meetings, and also they wanted me to speak about the process of doing a matching grant. I was honored that they asked me.
With a laptop and projector that they provided, I was able to show them how to access an eClub meeting and we had the time to see two meetings. They also wanted me to speak about matching grants. When I was a member of Tempe Rio Salado Rotary Club I worked with St. Lucia South RC on a St. Lucia South Literacy Project. This was one project, but we used two grants to accomplish funding it. I told them how this was done and have since sent them copies of the two grants. The main person who worked with me on these grants left the club when she moved up north, so they were lacking information about the details of these grants. St. Lucia South RC is very interested in doing another matching grant with our club or with some other clubs, so it was important for them to get information on how to do the grant and how to access other clubs to see who would like to participate. The communities in the south have a great need for two dialysis machines, and St. Lucia South RC wants to donate two dialysis machines to St. Jude Hospital through a matching grant. ATTENTION ROTARY CLUBS – please take this opportunity to join an international project and help St. Lucia South RC meet this need in their community.
We did have some time for recreation. One evening Omar took us out to dinner to a beautiful tropical restaurant and asked some of his friends to join us. Good food, beautiful restaurant and great company, what better way to start the week! Then there was the social that the St. Lucia South Club had after their meeting where they had delicious hors d'oeuvres and beverages giving us time to socialize and have fellowship. One day we even got to the beach for a late lunch with PP Julian and Dr. Ram. Another afternoon after a day of presentations, Richard and I stayed on the beach and enjoyed some sun and surf. Omar made sure that someone picked us up and brought us back to his house. On Friday, after our last day of presentations, Rotarian Vernita Ismael, who works for a brewery company, took us on a wonderful tour of the facility. This brewery actually makes Guinness beer in their facility through an arrangement with Guinness. They make a Piton beer as well, and I must say they do make a good beer. Following that, Rotarian Shermie James and her husband Shern took us to Soufriere to a beautiful restaurant with views of the famous Pitons as well as the lush rain forest. We had a delicious dinner and enjoyed the views until the sun set. In the evening we had the city lights to enjoy. What a wonderful evening and end to a perfect day and week.
To me, as a Rotarian, our week in St. Lucia was such a success. We fellow Rotarians were able to finally meet and work together to help the children and spread the Rotary name throughout their communities. We were also able to spread the news about Rotary, our Clubs, and the Dictionary Project via the radio show and the dictionary presentations. I was able to speak at their Club meeting, talk about the eClub and matching grants, and enjoy some fellowship. We shared many experiences and had fun, and it is satisfying to know that we made a difference. What more could we ask for?
I am grateful to all St. Lucia South Rotarians, especially President Moises, PP Julian, PP Chris (aka OGB), Dr. Ram, Richard (the professional photographer), Vernita, Shermie and her non-Rotarian husband Shern. They organized the whole week, from putting labels and stickers on the dictionaries, making dictionary presentations, preparing for and attending the radio show, taking turns driving us to and from the schools, taking pictures, entertaining and touring us, and seeing that everything ran smoothly. They worked so hard and made our project such a success. My thanks to the eClub members who supported this project, especially Omar Davis who helped to bring the project to St. Lucia and hosted us so we could join in the project presentations. Also, our thanks and gratitude goes to the members of Mesa West Rotary Club in Arizona and Rajkot Midtown Rotary Club of India. Their financial support allowed us to reach these children.