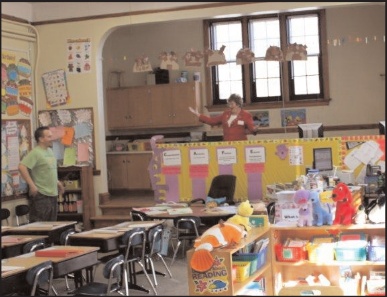 Three generations at Eagleville
My Wambold ancestors have lived in the Eagleville area for more than a hundred years. My family was living on the farm with my aunt and uncle at Jericho Corners when I started first grade. I attended Jericho School (also a one-room school) for six months. The school is now privately owned. The Wambolds donated land that was used to make a man-made lake called Eagle Springs Lake.
Six months later we moved down near the lake, transferring to Eagleville Grade School. My mother attended this one-room school for eight grades. I attended eight grades there as did other relatives.
When our Lodge began distributing dictionaries to third graders I remembered my childhood school. The school was very happy to receive the English and Spanish versions, and made a special time of it when the delivery took place. I spoke to the class about the books, and interacted with the students. My husband Ralph and I have adopted John Steib's third-grade class, and we have visited it many times in the past few years, interacting with each class. John invited me to speak to the entire school during Heritage Days about my memories at the school, that year celebrating the 161st birthday of the school. I was also asked twice to be one of the judges for the 5th-grade speech contest.