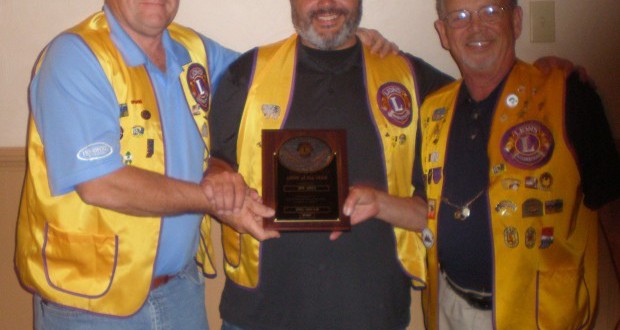 Club award winner has something to roar about
Jeff Greco, a four-year member of the Lowell Lions Club, received the Lion of the Year Award at the club's Quarterly Zone meeting attended by 32 members and guests at Mi Ranchito restaurant last month.
Club President Paul Palmer and incoming President Bill Rankin presented Greco with the award for his service to the club and community.
Greco joined the Lowell club in November 2008 and has attended regular monthly board meetings, dinner meetings and periodic club functions.
One of his most notable accomplishments was volunteering to take charge of painting the Lowell Lions Christmas Tree sales trailer after it was vandalized last July. He also was instrumental in helping with the Dictionary Project throughout the Tri-Creek School Corporation in April.
Greco has participated in every club fundraiser since he joined, including: Christmas tree sales, pancake breakfasts, Lowell Labor Day Parade pitch-in, Mill Street Cruise Car Show, the October Turkey Shoot and other projects that have benefited the community
Having served the past year as second vice president, he will be installed as first vice president this month and will head up the 39th Annual Christmas Tree Sales fundraiser starting Nov. 24.
Lions International is the largest service organization in the world, with more than 1,300,000 members in more than 44,000 clubs in 200 countries. The Lowell Lions Club was chartered in April 1938 with 33 family- and community-minded men from the Lowell area.