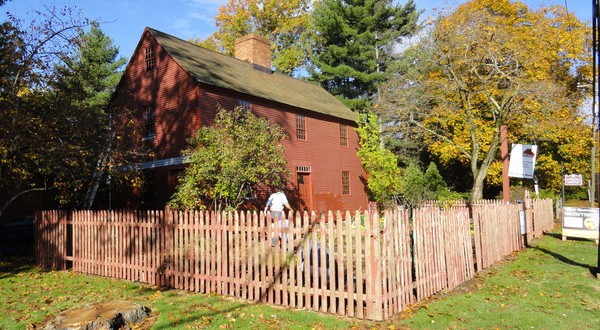 Noah Webster House raffle benefits the Dictionary Project
The Noah Webster House & West Hartford Historical Society, in conjunction with West Hartford Rotary, is sponsoring a raffle to help support the museum's educational mission. Along with the possibility of winning a prize, ticket purchasers will also be helping local children.
The prizes include a 4G 32MB iPad, a $250 gift certificate to Lunden Diamond Company, and a one-year Family Membership to the Noah Webster House.
Tickets will be available at the Noah Webster House booth at Celebrate West Hartford this weekend, until the winning ticket is chosen on Sunday, June 10 at 3:45 p.m.
The raffle tickets are $10 each. With each ticket purchased, the museum is able to donate a Merriam-Webster dictionary to a 3rd-grade child in West Hartford. The dictionaries are donated as part of the national Dictionary Project, sponsored in West Hartford by the local Rotary chapter.
Chris Dobbs, executive director of the Noah Webster House, and Dana Gordon, the president-elect of the West Hartford Rotary, hand out the dictionaries each year. Dobbs portrays Noah Webster in costume.
Dobbs says that it is "inspiring to share Noah's life with West Hartford children. They love meeting and finding out about a person from our community who helped shape a nation. More than that, the students' eyes pop when you give them their very own dictionary. In this day of technology, you might never guess that something so basic could be so valuable."
The goal of the Dictionary Project is "to assist all students in becoming good writers, active readers, creative thinkers, and resourceful learners by providing them with their own personal dictionary."
Raffle tickets will be available at Celebrate West Hartford and are also available at the museum from 9 a.m. to 5 p.m. Monday through Friday, and 1 to 4 p.m. on Saturday and Sunday. Call 860-521-5362 x10 for further information.
The Noah Webster House and West Hartford Historical Society is located in the restored birthplace and childhood home of Noah Webster. Webster was a national figure known not only for the first American dictionary and the Blue-Backed Speller, but also for being a federalist, an abolitionist and a cofounder of Amherst College. The historic house and exhibit spaces are open daily 1 p.m. until 4 p.m. Thursday through Monday. For information on the museum's extensive school and public programs, please visit us at www.noahwebsterhouse.org or call (860) 521-5362.