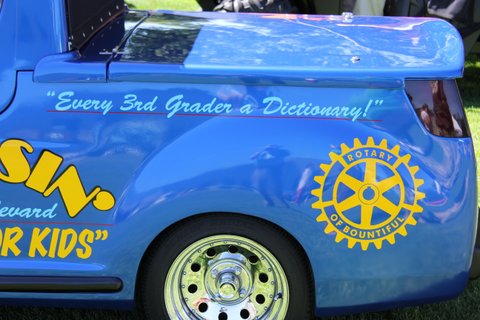 Cruisin' with the Bountiful Rotary Club
"Cruisin' the Boulevard Coats for Kids" is a charitable event sponsored by the Bountiful Rotary Club. This year marks the 13th anniversary of this event dedicated to aiding our local children.
The Bountiful Rotary Club was organized in 1948 and was the 16th Rotary Club organized in Utah. Our club now has 35 members and was awarded the "Utah Rotary Club of the Year Award" for 2004. The primary focus of our Club is community service with an emphasis on the children.
Each year we provide scholarships to several young men and women to attend "RYLA," a leadership camp for high school juniors.
For the past 40 years the Bountiful Rotary has honored young men that have received their Eagle Scout awards by presenting them a beautiful embroidered Eagle Neckerchief.
Now in its 13th year, the "Coats for Kids" Car Show has allowed us to provide over 4,000 elementary children with new coats, gloves, and mittens.
Through our Dictionary Project, Bountiful Rotary Club provides dictionaries for all 3rd-grade children in the Bountiful, West Bountiful, Woods Cross and North Salt Lake areas.