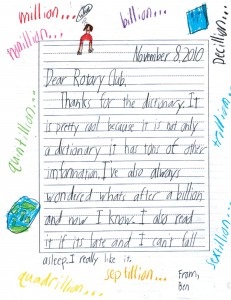 Rotary dictionary project seeks business sponsors
Each year, the Rotary Club of South Anne Arundel County distributes dictionaries to all third graders at the eight South County public and two private elementary schools. This year, the Club is a couple hundred dollars short. They are looking for local businesses to help by sponsoring a school or giving a contribution towards sponsorship.
If your business is looking to support something local, a donation of $150 (half sponsorship) or $300 (full sponsorship) would be meaningful to students right here in the community.
A dictionary is the quintessential book for any student—in school and beyond. It is the book that can most help a child throughout his or her academic career.
This isn't palaver. What other reference book can you use to improve both your spelling and your vocabulary?
The schools that the Club covers in their Dictionary Project include:
Central Elementary
Davidsonville Elementary
Deale Elementary (currently without full or partial sponsor)
Edgewater Elementary
Lothian Elementary
Mayo Elementary
Saint Andrews School
Shadyside Elementary
Summit School
Tracey's Elementary
If you are not interested in a full or half sponsorship, think about a cash donation of any amount. A half-dozen businesses that each give $25 works as well as a single business giving a half sponsorship. In fact, any contribution helps to defray the cost of these vital reference books.
Typically, the dictionaries are distributed in the fall so that students have the whole year to use them.
For further information, email Cort Vitty. The Rotary Club meets weekly (7:30 a.m. Thursdays) at the Killarney House in Davidsonville. If you are interested in membership, stop in for breakfast on Thursday or email Info@southcountyrotary.org for more information.