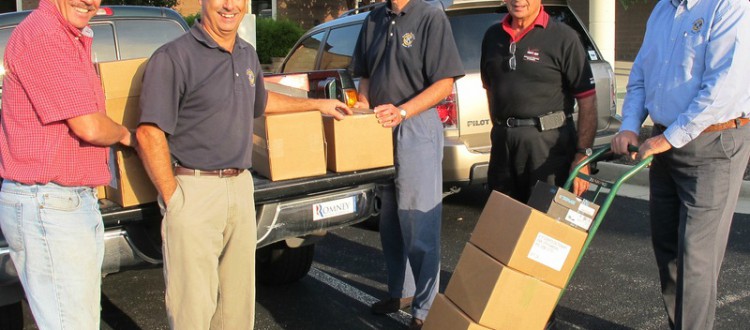 Botetourt Kiwanis deliver 432 dictionaries to Botetourt 3rd-grade students
Up and at 'em every Friday morning by 7 AM, the Kiwanis Club of Botetourt meets at Greenfield Technical and Education Center in Daleville. They fundraise throughout the year in various ways for programs like dictionaries for third graders and many more. They also sponsor the middle school Builder's Clubs and high school Key Clubs.
The Dictionary Project provides a copy to every third-grade student in the county who desires one. Each is fitted with a name plate and a 'donated by' sticker from the Kiwanis.
Kiwanis International has a focus on children and youth. On Friday September 7, about 30 members met to eat breakfast and have a business meeting and to talk about the dictionary delivery.
"This year the club will give out 432 dictionaries to third graders in the school division and to home schooled children as well," said Tim Alderman who headed up the Dictionary Project. For instance 72 dictionaries were delivered after the meeting to Cloverdale Elementary School for distribution. The Verizon Pioneers also volunteered to help with the dictionary project and two showed up to make deliveries with the group.
"The Kiwanis Club of Botetourt raises funds for the project by parking cars on the property of Dr. Fremont Vess in Daleville during LBHS home games. They ask for donations and have done very well," said Club president Chuck Geiger.