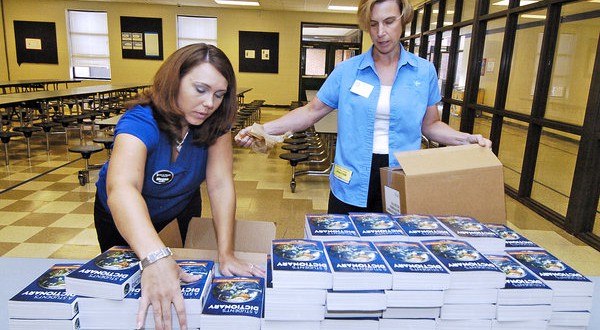 Rotary gives dictionaries to Paulding third graders
While the Rotary Club of Dallas may be small, with only 14 members, they give back in a big way, recently donating about 2,200 dictionaries to all the third graders in Paulding County.
This is the third year the club has organized its Dictionary Project, according to club treasurer Megan Weldon.
Sponsors for the project included GreyStone Power and Liberty Mutual Insurance.
Weldon said the students loved getting their dictionaries each year.
"You wouldn't think they would get so excited about a dictionary, but they are," she said. "It's nice, because the principals are starting to see it's a project that we're going to make last."
Teresa Janiga, the club's president-elect, said the project was humbling to watch.
"A lot of the kids don't have a computer at home," she said. "Something we consider to be a simple luxury — it humbles you to realize not everybody has one."
The club also donated Spanish dictionaries to the schools for Spanish-speaking students.
Its big fundraiser, which helps support literacy projects like the Dictionary Project, is a Poker Run motorcycle tour fund-raiser, scheduled for Oct. 6.
"Last year, we were runner-up for Rotary Club of the Year in Georgia," said Weldon. "A lot of the work we do supports literacy in schools."
The club also works to increase literacy in adults, as well.
"We also support literacy in adults by sponsoring a GED program," Janiga said.
Aside from their work with literacy, the club works with McKenna Farms and other local nonprofit organizations.
Weldon said the club was recognized as runner-up for the state title of Rotary Club of the Year because of their small size but relatively high number of annual projects.