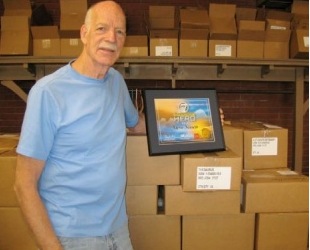 Steve Nissen honored as an 'Everyday Hero' by Channel 7
Steve Nissen, former INC Chair and current Dictionary Drive program chair, was presented with an Everyday Hero award by Mitch Jelniker of Channel 7 News. The award was made during the recent book packing activities for the Dollar Dictionary Drive which operates under the Inter Neighborhood Cooperation banner. 2012 marks Steve's 17th year organizing this program.
Here is Steve's update on this year's project:
The dictionaries and thesauruses, (7,200 of each) are now in Denver Public Schools for the seventeenth (17th) year that INC has been doing this project. That's about 250,000 books given to 190,000 third-graders at INC's cost of over a quarter million dollars. This past two weeks saw scores of hardy volunteers turn out to label and pack the books for 99 schools. Our thanks to the stellar group of volunteers who labeled and packed the books for the students.
A special thanks to all individuals, RNOs, grantors and businesses who have helped make this possible through your donations.
If you missed the opportunity to contribute, it is not too late. We still have costs to cover for this year's project as well as begin the initial process for the next year. Please consider a contribution to this award-winning project.