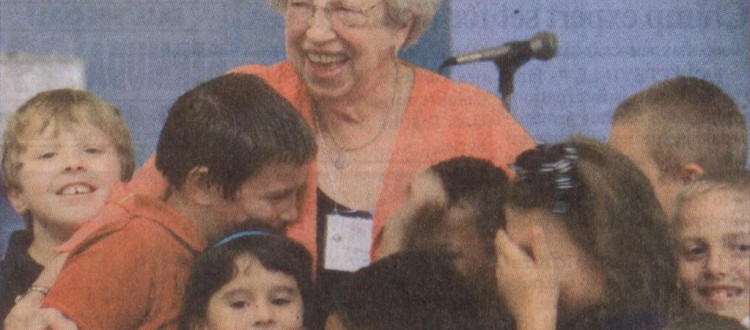 Dictionary project opens books for kids
Corene Mitchell, an octogenarian from Sherwood, Arkansas, a small entourage of family members and a friend handed out paperback student dictionaries to Bayou Meto Elementary School third graders for each of the pupils to keep.
The gifts had no batteries and didn't require passwords or Wi-Fi, but the pupils leafed through the books with interest.
They studied maps of the 50 states and the continents included as supplemental information in the dictionary. They also checked out the listing of the planets and the presidential biographies, tried out the sign language alphabet found on one page and marveled at another page devoted to the world's longest word.
Then the children – and their teachers – applauded and took turns hugging Mitchell.
"You are the ultimate and permanent teacher," teacher Angela Sprow told Mitchell after the assembly last week. "This is wonderful. I know about instant access, but it is very important that they can still hold books in their hands. We have got to put books in the hand. We can never lose that."
The happy scene at the Pulaski County Special School District school is one that Mitchell, the General Federation of Women's Clubs of Arkansas – including its North Little Rock chapter – and The Dictionary Project, a nonprofit organization based in Charleston, S.C., are working to replicate across Arkansas.
Cases of dictionaries are routinely stacked against a wall of Mitchell's garage, awaiting pickup and distribution to third graders in all North Little Rock elementaries, as well as to a handful of schools in the Pulaski County Special district.
"I volunteered to do it because I'm interested in children's education," Mitchell said about her years of involvement.
Every year, she purchases cases of books on her own to give to particular schools in memory of her family members who once attended schools such as Bayou Meto.
"It's nice to know you are helping a little bit with these children," she said and noted that third graders are typically transitioning from learning how to read to reading to learn.
As for the usefulness of dictionaries in a time of computers, Mitchell quickly points out that many children don't have quick access to computers at home. The dictionary helps fill that void.
In all, the 38 chapters of the women's club sponsor the distribution to some 279 of the state's approximately 500 public elementary schools. And Mitchell is individually working with The Dictionary Project to get donated dictionaries into other elementary schools, particularly those not covered by other organizations that make book donations.
Rotary Clubs in the state also are active in donating dictionaries to elementary schools. Rotary Club No. 99, for example, donates personal dictionaries to third graders and reading books to school libraries in the Little Rock School District.
Mary French, director of The Dictionary Project, calls Mitchell and others like her in other states driving forces behind the nonprofit organization's work.
"She is literally changing lives," French said of Mitchell.
Mitchell contacts the schools and places the book orders. For those schools without donors, The Dictionary Project makes a one-time donation of books, French said.
The cost to sponsor a school amounts to $48 per case of 24 dictionaries.
The gesture of donating dictionaries, on the surface, seems quaint – a throwback to a time before Google and other search engines could define a word even before it is fully typed out.
But it would be wrong to assume that dictionaries are useful only to Luddites.
"I use the dictionary every day," Bayou Meto Principal Gary Beck told the 60 third graders last week. "It is a great resource. You can keep it on the corner of your desk. Use it."
Amy Wren, a third-grade teacher at Bayou Meto, has five computers in her classroom and access to a computer laboratory for her pupils. Still, she called the dictionary gift fantastic, with its features on the solar system and its inclusion of the Declaration of Independence and U.S. Constitution.
The dictionary with supplemental information meshes well with the third-grade curriculum, she said. That curriculum is now based on new national education standards that call for third graders to not only learn spelling and parts of speech, but also develop map skills.
Wren's pupils are now learning what states are to the east, west, north and south of Arkansas.
Lessons on government and the presidential election are looming, and later in the school year there will be a study of the planets, Wren said.
All those topics are addressed in the new dictionaries, which will stay in pupils' desks for a time and then go home.
"This is going to be so helpful and so useful in the classroom," Wren said about the donation. "It's a wonderful resource. There's no question."
Blake, 8, a Bayou Meto third grader, said, "The dictionary has all these cool things in it. It has sign language and maps of the Arctic Ocean and China."
Blake's classmate, Daniel, 8, caught the attention of a visitor to the school.
"Here's what you are," Daniel said and pointed to the guide word reporter on an open page in his new book.
Daniel said his favorite parts of the book included the listing of the longest word in the English language, all the maps and the names of all the presidents.
"What I also like about it is that it is portable so I can carry it anywhere," Daniel said.
Additional information about The Dictionary Project is on the organization's website: www.dictionaryproject.org.
By: Cynthia Howell, Arkansas Democrat-Gazette, September 30, 2012