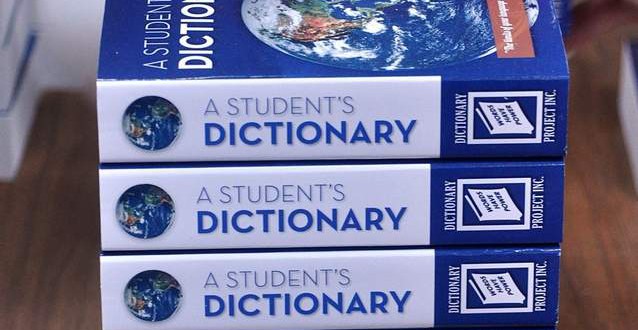 Rotary Clubs prepare dictionaries for third graders
Jason recalls getting a new dictionary as a third grader at Millbrook Elementary School.
"My teacher gave them out, and I was all excited," he said.
On Saturday, fifth grader Jason, his older brother Emory and their dad, Joe Lewis, were helping label and pack the children's dictionaries for distribution to about 2,400 third graders in all public and private schools in mid-October.
Rotary International sponsors the project around the world. Participating in the project at Screenprint Factory in downtown Aiken were members of the Aiken Rotary Club, the Aiken Sunrise club and the North Augusta Club. With more than 30 people showing up, they packed the boxes in about 45 minutes. The project began in Aiken 12 years ago, said Sunrise member Steve Black, the Screenprint Factory owner who coordinates the effort each year.
"It's great to get all of us together," he said, "and it's even more amazing to see all the reactions for the kids."
The books also provide lots of facts about the United States, all the presidents, and much more. In an era of video games, social media and endless cable channels, the kids thoroughly appreciate the gift, said Block.
"I loved to see them turn to sign language in the dictionaries," Black said. "There's something very special about holding a book in your hands. No matter how advanced we get in our technology, you just can't replace that."
Aiken County School Superintendent Dr. Beth Everitt will deliver dictionaries to third graders at Greendale Elementary School in New Ellenton on Monday, Oct. 16. Most of the dictionaries will be delivered to other schools that day, as well.
A member of the Aiken Rotary Club, Everitt enjoyed the chance to help label and pack the books Saturday.
"It was a treat to see how many people showed up and how quickly we got it down," she said. "For many of the kids, it might be the first book that's all theirs. The students will remember this for a long time."
For the past eight years, Samantha Turner, now 15, has helped out with the project with her mother Kathy and dad Brett, a member of the North Augusta Rotary Club. Samantha lives with her family in Augusta and didn't receive a dictionary at school as a third grader.
"But my dad brought me an extra one," she said. "I wrote my name in it and felt really special. As I've gotten older, I appreciate what we're doing today and for helping people more."