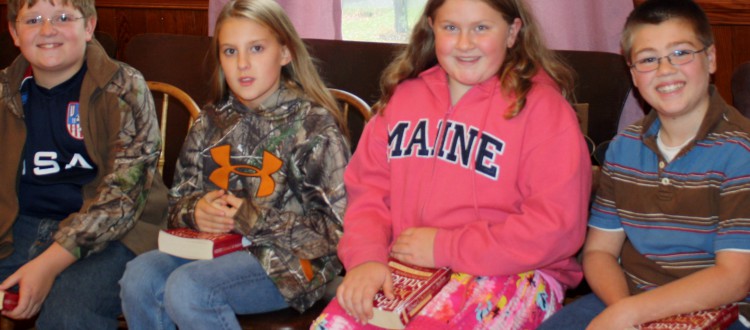 Third graders get the word
Approximately fifty third graders from Piscataquis Community Elementary School were treated to a visit at the Valley Grange Hall in Guilford where they were greeted by members, a Civil War Navy Captain, and WABI and WVII news reporters! Of course the word was already out and everyone knew the ultimate purpose of the visit was for Grange members to give each student his or her very own dictionary.

Sixth graders Alison Quimby, Nathaniel Fanjoy, Addyson Herrick, and Ethan Chadwick came along to talk with their younger school chums about receiving their dictionaries three years ago. Asked what they remembered best about that visit, they concurred a highlight was the bus trip back to school when they and their classmates were busy "looking up words" and "just being excited about having our own dictionaries." At least one third grader challenged their advice to "take good care of your book" by noting the condition of their three year old dictionaries. The group simply pointed out that their well-worn dictionaries are evidence of how much they've been used.

Civil War "Captain" Jack Battick (a re-enactor) attended in his complete Navy uniform to demonstrate the proper Navy salute and talk about the role of the Navy during the Civil War. He was peppered with questions about his uniform and role in the war, as was his companion Mary Annis who wore a typical "day dress" from the era.

Students learned that the organization called the Grange began shortly after the Civil War as a way of uniting farmers to improve life. One important accomplishment of the Grange was the RFD (Rural Free Delivery) of mail. Coincidentally, each attending class discovered a letter for them in the Grange mailbox.

Faced with an unfamiliar word in their letter, the students immediately saw the need for a dictionary and Grangers meet that need by passing out the long-awaited dictionaries. Students looked up words like "patron, husbandry, and steward," and were led to understand that the day's program was about "providing resources that should be used wisely."

Third grader Taylor later told WABI-TV 5 reporter Morgan Small, "I'll definitely use it for, like, reports, and when we have reading jobs and, when we don't know what a word is, I will definitely look it up in this. I think that when we go back to school, anything they do, we're going to try use our dictionaries for it."

This is the first of a series of dictionary days sponsored by Valley Grange. On November 2, a Valley Grange team will travel to Lagrange, Milo and Brownville to visit with third graders. Students from SeDoMoCha will visit the Valley Grange Hall on November 5 to receive the coveted dictionaries. The local program is part of a global program called "The Dictionary Project." Based in South Carolina, the project aims to provide a dictionary for third-grade students around the world.

Grange Program Director Walter Boomsma notes that the dictionary day project is just one of several local programs members enjoy with area students. "Our programs range from listening to kids read to commissioning art classes to design Grange advertisements as part of the Newspapers in Education Program. When we do these projects with kids, it's truly a case of the work is also the reward," he notes. "We really enjoy the kids' energy and enthusiasm, and it's rewarding to sense that in some small way we are encouraging and contributing to it."

To learn more about the Grange's work in the area, visit http://valleygrange.com or attend the Grange's November 19th meeting which will include the program "Allagash Tails and Tales," featuring local author Tim Caverly. The former Allagash Waterway supervisor will offer a multi-media presentation featuring music, scenic and historic photographs as well as stories detailing Tim's personal experiences while living in the woods. You will experience the Allagash in a whole new way. The free program is being offered as a family-friendly event that begins with a community potluck supper at 6 PM and program at 7 PM. The Valley Grange hall is located at the corner of Butter Street and Guilford Center Road in Guilford.