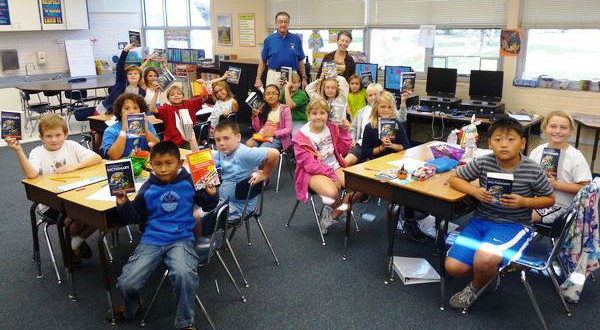 Beach school class receives dictionaries
Beach Elementary School third graders received a gift to enhance their learning education last Tuesday, Nov. 13.
Two members of the Sanibel-Captiva Rotary Club delivered student dictionaries to the classroom as part of the Rotary Dictionary Project during a national distribution entitled Dictionary Day, usually slated on he first Tuesday of November. All other Lee County school third graders received dictionaries.
Program Coordinator and Rotary Board member Emily Kletzien and active member Ed Wheeler stopped by the Beach school campus to explain their international service organization's functions and the reference books entitled A Student's Dictionary.

'The Rotary club has many, many chapters in different countries and do we projects to help other people who have disease that cripple them," Kletzein said and listed polio and malaria as two of the diseases.
The local Rotary club also helps several other causes. It has clean water projects and a Wheelchair Foundation that delivers wheelchairs to those in need.
"Instantly, their lives are changed when they have mobility," said Kletzein, about the wheelchair program.
The gift dictionary book features a comprehensive dictionary, biographies of U.S. Presidents, Declaration of Independence, U.S. Constitution, facts about planets in the solar system, maps of seven continents, information about 50 states and weights and measures.
"We appreciate the local Rotary club being concerned about the education of our children. The kids love the dictionaries," said Beach Elementary Principal Larry Wood. "When we left them, they were busily looking up words and fun facts."