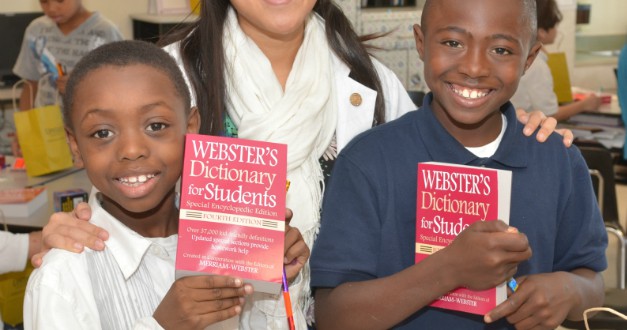 Upstate students make special delivery
There were a lot of happy third-graders in Syracuse, NY, last week.
Upstate students took part for the seventh year in the Corporate Volunteer Council of Central New York (CVC) Dictionary Project, which distributed English and Spanish dictionaries to more than 1,600 students in the Syracuse City School District.
Upstate students delivered 103 dictionaries to the Rev. Martin Luther King Jr. magnet elementary school, which is one of our Center for Civic Engagement's community partners.
In addition to Upstate Medical University, CVC member sponsors this year were: University College of Syracuse University; United Healthcare Community Plan; Fust Charles Chambers LLP; FIXit Zone, Syracuse University; Kappa Alpha Psi Fraternity, 100 Black Men of Syracuse, Dunbar American Legion Post 1642; Excellus BlueCross BlueShield; Lockheed Martin; GE Sensing & Inspection Technologies; CXtec/TERACAI; Carrier Corporation; Armory Capital Management LLC, Bousquet Holstein PLLC, Grossman St. Amour CPAs PLLC, Rescue Mission; Gilberti Stinziano Heintz & Smith, P.C.; and Syracuse Fire Fighters Association Local 280 IAFF.
The CVC is a coalition of businesses, organizations and associations that recognize the importance of volunteerism in our community. The CVC functions as a partner of United Way of Central New York, operating independently but receiving support from United Way.
Their mission is to provide professional guidance, development, support and networking opportunities for members and to address community needs through employee, retiree, member and family volunteer efforts.