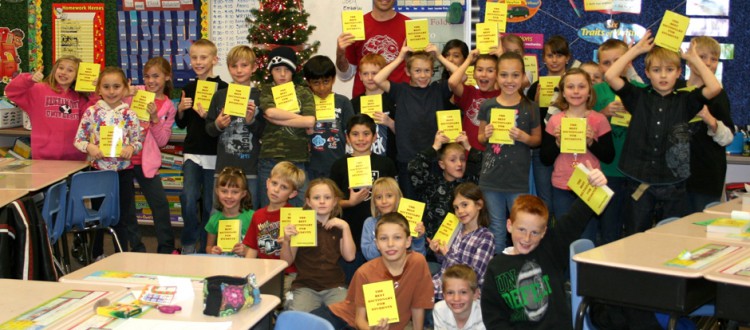 Dictionaries, a family affair
In November of 2012 my husband and I once again donated dictionaries to every third grader in the Lucia Mar Unified School District on the Central Coast of California. In our eight years of donating dictionaries, we have distributed more than 6,000 books.
When I visit the classrooms, I tell the students my father's story: he was born in Italy, but came to this country when he was only seven. He learned the language of his new country, English, but he also kept the language of his old country, Italian. He loved both languages, and he loved learning about both of them. I remember him reading the dictionary often.
Cole, my eight-year-old great-nephew who lives in Utah, became interested in his great-grandfather, my father, when his class was given an assignment to talk about an ancestor. Cole told his classmates about his great-grandfather who read the dictionary, and they were interested in such a man.
Cole and I decided the perfect way to end the ancestor assignment would be to give each of the 3rd graders in his class at Pony Express Elementary School in Eagle Mountain, Utah, a dictionary to keep in memory of Cole's great-grandfather. And that is what we did. The students gave a warm reception to the dictionaries, and they and Mr. Morley, their teacher, shouted their thanks to Cole.
Cole and I give our thanks to the Dictionary Project for making gifts like this available to so many students.