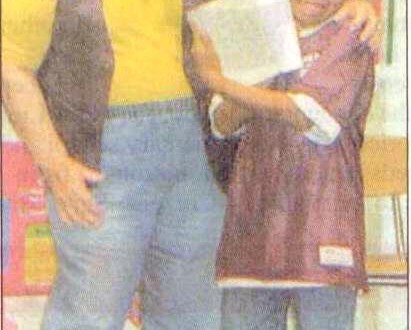 Lions present dictionaries to students
On October 15 Cologne Lions Club members Pat Herrmann and Herb and Joyce Lins presented a total of 64 personal dictionaries to all 3rd graders at St. Bernard's Catholic School, Cologne Academy, and Zion Lutheran School.
This is an annual project that Lions all over the nation conduct. Like the Peace Poster Contest, this is another way the Lions connect with their local schools to inspire the students and invest in our children. As one teacher said, "You have no idea how many lives you touch with this project."
Each year Cologne Lion Pat Herrmann contacts the three Cologne schools to schedule a time to visit the third-grade classrooms and give them a presentation, and the students are given the gift of new dictionaries of their very own. This gives the students an opportunity to learn what the Lions Club members do for their community and the many ways they volunteer their time, in keeping with the Lions' motto, "We Serve."
Students are learning to read when they enter third grade and reading to learn when they enter fourth grade. Giving dictionaries to 3rd graders helps them in this process and aids them in learning the meaning of words.
During the dictionary presentation, Lion Herb Lins helped the kids discover the world's longest word. Readers, be sure to have a third grader show you that word in his or her new dictionary. More than one student told the Lions, "My older sister still has her dictionary!"
All third-grade students at Central Elementary, St. John's Lutheran School and Emanuel Lutheran School recently received dictionaries courtesy of the NYA Lions, West Carver Lions, and Hamburg Lions. This is the eighth year those clubs have donated dictionaries to local students. Any homeschool students who would like a dictionary can contact West Carver Lion Cathleen Williams at (952) 467-2960.