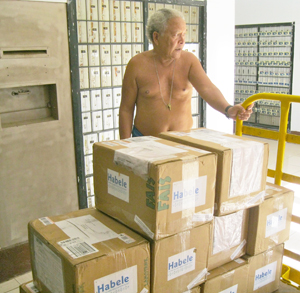 One thousand dictionaries headed to Yap, Micronesia
US residents might struggle to find the Central Pacific Island of Yap on a globe, but thanks to a donation from the Habele, native children on the islands of Yap will be getting a much-needed educational resource.
Habele, a US-based nonprofit organization, sent a thousand English language dictionaries to Yap. Its one of four states that make up the string of islands called the Federated States of Micronesia (FSM). The dictionaries even include an abbreviated atlas, something local students can use to learn more about distant North American geography.
This unique donation is enough to provide every middle school student across Yap State with something previously unheard of – a dictionary of their very own.
Forty boxes of books began to arrive in the capital of Yap, Colonia this week. They will be distributed to the 900 students who are enrolled in the roughly 30 public and private schools across the islands.
The donation is particularly meaningful as Yap, like all the isolated islands in the central Pacific, struggles with economic and educational challenges. Among those lucky enough to enroll in the nation's two-years community college system, just one-in-five will earn a degree, according to recent data from the US Government. Per-capita income is a mere $2,800 per year and many families still rely on subsistence fishing and farming.
Regina Raigetal, Habele's local director, orchestrated the dictionary donation project. "This donation is exactly what the island community told us they needed. It's a huge opportunity for our under-resourced students." Raigetal notes that Habele is the only nonprofit solely focused on educational issues in Micronesia. She says her groups is committed to help raise high school completion rates, and increase student preparedness for post-secondary education.
Director Vincent Parren, of the local state department of education, is generously overseeing the distribution of the dictionaries across the islands, which span hundreds of miles of open ocean.
Director Parren echoed Raigetal's enthusiasm about the partnership. "I would like to take this opportunity to thank Habele and its partners for their courtesy and kindness in sending the dictionaries to the students all across Yap State," said Director Parren. "We really appreciate the help and gift, and are pleased to have helped usher the boxes through customs as we send them out to the far-flung schools."
South Carolina-based charity Habele has been working in Yap State since 2006. In addition to coordinating donations of text, reference and reading books, the group awards scholarships and provides support to community-based after school programs. These include traditional dugout canoe carving (through the Waa'gey organization) and Micronesia's first ever high school robotics team exhibition, held earlier this year. The dictionaries were provided by The Dictionary Project, another South Carolina-based organization that works to provide students across the globe with dictionaries of their own.