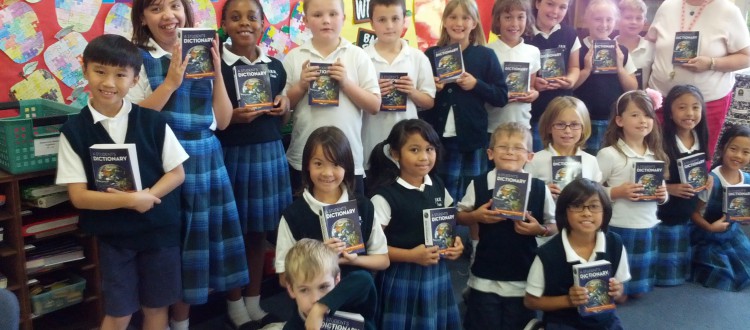 Silver Lake Kiwanis donates dictionaries to third graders
The group of civic-minded volunteers from south Everett takes an old-fashioned approach to its mission, by handing out paperback dictionaries to local third graders.
Silver Lake Kiwanis has been participating in the national program for about seven years. Other local Kiwanis groups are active as well.
"It's kind of a fun project," said Jack LaPoint, a board member and past president of the Silver Lake club. "The kids are excited."
Volunteers met Tuesday at the Morgan Aero Products' Paine Field warehouse to put labels in the front of dictionaries. So far this year, Silver Lake Kiwanis members have handed out 1,000 dictionaries to local students, with about 800 left to go. When handing out the dictionaries, they typically give a 15-20 minute presentation.
The program reaches 17 elementary schools in the Everett School District as well as nine area private schools.
Several elementary schools are receiving 100 or more dictionaries this year, with the most — nearly 150 — going to Penny Creek Elementary. Private schools receiving the books are Northshore Christian Academy, Immaculate Conception School and St. Mary Magdalen Catholic School.
Each dictionary is more than an inch thick, LaPoint said. In addition to word definitions, they include the U.S. Constitution, biographies of the presidents, information about the Solar System and other essential knowledge.
The approximately $2 each it costs to buy each book comes from a combination of donations and fundraisers, he said.
Hard-copy dictionaries still have value in an age in which children are raised with online dictionaries and spell-check tools, the program's supporters say. They help guarantee that students who lack Internet access at home have a dictionary ready at hand.
"Getting books into the hands of students is always a good thing," said Linda Tyrrell, a literacy curriculum specialist for the Everett School District. "Having students see adults who have a love of books is a good example. Not every student in our schools has access to dictionaries online, so paper dictionaries, for some students, is the only word-resource they have available."
Nationwide, Kiwanis Clubs have donated more than one million dictionaries over the past decade. The books have been donated to more than 3,400 schools. More than 640 clubs participate in the program.
For more information, go to http://www.dictionaryproject.org/.