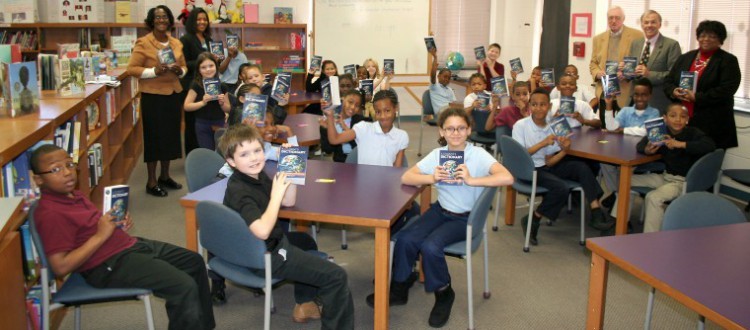 Warrenton Rotary Club continues project focused on improving literacy
Members of the Warrenton Rotary Club wrapped up this year's delivery of free dictionaries last week while visiting with third-grade students at South Warren Elementary School. The annual club project to promote literacy has put a dictionary in the hands of every third-grade student countywide for around 10 years.
Started locally by a former Warrenton Rotarian, the late Harry Weingarten, and continued in his memory, the endeavor is part of The Dictionary Project, a nonprofit literacy effort that began nationwide in 1995 and has since gone international. The Dictionary Project relies on local groups, such as Rotary Clubs, Lions Clubs, parent organizations and more, to sponsor programs to give dictionaries to students in their communities.
According to the nonprofit's website, third graders are the recommended recipients of the free dictionaries because educators see that grade as the "dividing line between learning to read and reading to learn."
In addition to promoting literacy, the Warrenton Rotary Club uses the opportunity to share values imparted in the international service organization's Four-Way Test, which is printed on a nameplate inside each dictionary. The Rotary Four-Way Test asks the following questions: Is it the truth? Is it fair to all concerned? Will it build good will and better friendships? Will it be beneficial to all concerned?
For more information on The Dictionary Project, go online to Dictionaryproject.org.
For more information on the Warrenton Rotary Club, visit their website at warrentonrotary.org.