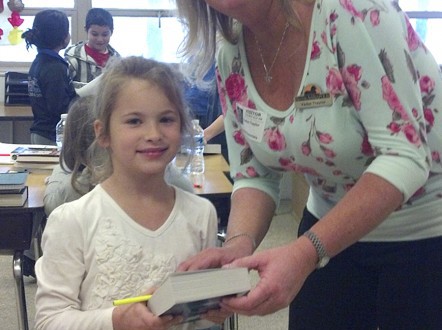 Rotary Club donates dictionaries to third graders
The Rotary Club of South Anne Arundel County recently made their annual distribution of dictionaries to third graders in south county.
The Dictionary Project is a program to benefit youth and promote literacy. Rotary clubs throughout the world participate in this annual event.
Those receiving dictionaries included: Central, Davidsonville, Deale, Edgewater, Lothian, Mayo, St. Andrews, Shadyside, Summit and Tracey's Landing Elementary schools.
The club would like to thank all of the business sponsors including: BankAnnapolis (supporting two schools), Blades of Green, BOG Pest Control, Hand & Stone Massage and Facial Spa, Herrington Harbour, Killarney House, Merrill Lynch and Renno's Market. Personal donations were received from: Chris Asher, John and Linda Derrick, Tammy Page, Susan O'Rourke, Jane Snider and Michael Wolfe.
Rotarian Tracie Hovermale spearheaded the distribution, assisted by Joseph VanDeuren and Rick Derrick. Sponsors accompanied Rotarians during the distribution process.
Each student received a dictionary, plus a brief tutorial reviewing the content. Even in an electronic age, teachers remark how the students regularly use the books to enhance their studies — even beyond third grade. The books are often passed along to younger siblings and other family members.
For more information on the project, visit www.dictionaryproject.org. For more information on the Rotary Club of South Anne Arundel County, visit www.southcountyrotary.org.