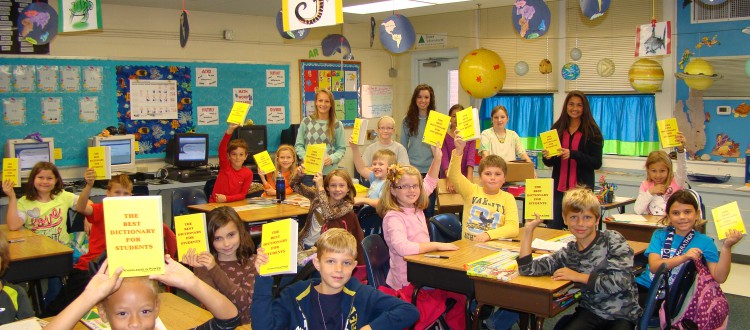 Key Club Donates Dictionaries to 11 Schools
Gulf Breeze HS Key Club distributed free dictionaries to 11 Pensacola area elementary schools as part of an initiative undertaken by its members to help improve third grade students' writing, reading and critical thinking skills.
The Key Club sought assistance from the Florida Opportunity Fund Grant. Combining the grant funds with Key Club funds, the dictionaries were secured at a cost of $1,000.00 and delivered to the following schools: Gulf Breeze, Oriole Beach, Sacred Heart, Central, O J Semmes, Oakcrest, Holm, Redeemer, Warrington, Chumuckla and West Navarre elementary schools.
The Key Club helped educate 792 students and helped them improve their English skills. In addition, Key Club members were overjoyed to have provided educational services to the elementary schools in their area. The children even sent the club thank-you letters thanking the club members for their services and telling what they learned from the dictionaries.