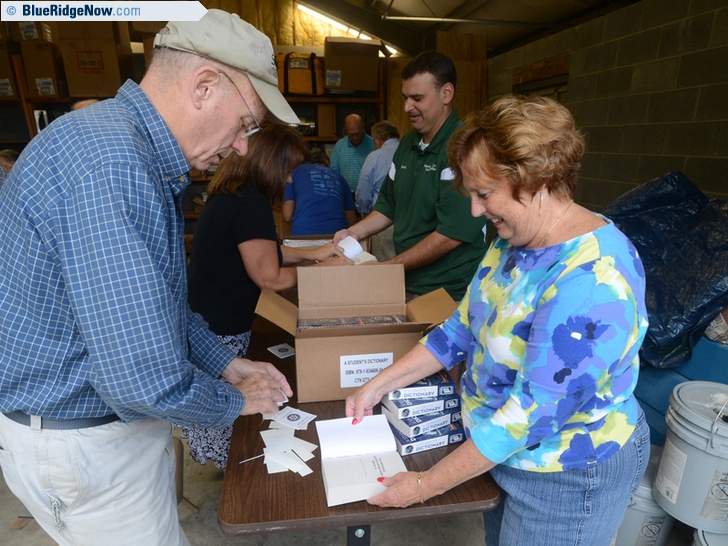 Hendersonville Rotary Club distributes dictionaries to third-graders

You could hear the excitement grow in Jim Finch's voice as he picked up a copy of the dictionaries the Hendersonville Rotary Club were unpacking from boxes Tuesday night at Blue Ridge Community College.

He flipped open the cover and the inscription inside read, "This dictionary and all the words inside it belong to (blank)."

The last line was left empty for whoever possessed the dictionary, but on Friday that line will be filled out by third-graders all over Henderson County. The club was putting Rotary stickers inside the front cover and then boxing the books back up for a mass delivery Friday for the "Sky Polega Gift of Knowledge" project.

Members of the club will go out on Fridays in teams of two or three members and deliver the books to 13 public elementary schools and four private schools in Henderson County for the 12th consecutive year.

"It's just a fantastic information book," Finch said. "In some cases, this may be the only dictionary in the house."

The project was started to honor Sky Polega. Polega, who died at age 25 on an adventure trek in Alaska, is the great-granddaughter of Carl Sandburg. Polega graduated from Hendersonville High and then moved on to Duke University.

Her mother, Paula Polega, will be on Finch's team handing out dictionaries Friday morning.

This year, 1,116 third-graders will get a copy of the dictionary, as will 57 teachers. The club ordered 1,200 books. The extras will go to the district office for any transfers or new children that enter the school district.

The club has a strong collaboration with BRCC. The books are delivered there and the college holds them for a week. Club members then go in and prep the books for delivery.

"We feel like we get the biggest bang for the buck with this event," Finch said.

That "bang" is the happiness from the kids they deliver books to, he added. The kids end up writing letters to the Rotary Club. The smiles they show spread to the faces of the Rotary members.

"We get it all done in one day and we make 1,100 kids happy," Finch said.