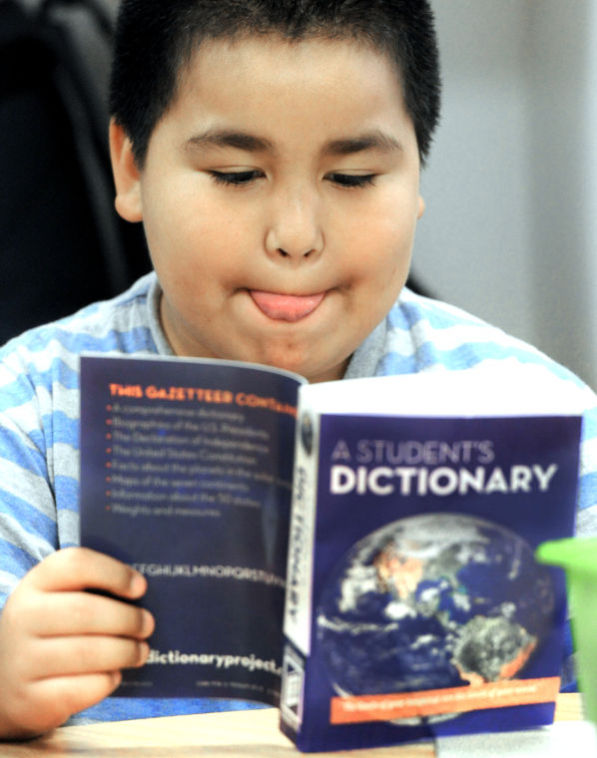 Third-graders get free dictionaries to aid education
Nearly 1,300 third-graders throughout the Bryan school district were personally handed a dictionary from an elected official during a two-day dictionary giveaway that started Tuesday.

The dictionaries were provided by The Dictionary Project, which started in Charleston, SC., and were to be handed out to children Tuesday and Wednesday in Bryan elementary schools.

"They're made for third graders, since this is where they begin teaching dictionary skills," said Floy Poe, the former president of the Republican Women in Ellis County, who helped spearhead the campaign. Poe launched the project in Ellis County 10 years ago and helped start the program last year in Bryan at the Harmony Science Academy.

This is the first year all third-graders in the Bryan district were given dictionaries.

Aside from pages of definitions, the dictionaries also include the Constitution, the Bill of Rights, biographies of U.S. presidents, the Declaration of Independence, facts about planets in the solar system, maps of the seven continents and information about the 50 states, sign language and braille.

U.S. Rep. Bill Flores and District Attorney Jarvis Parsons kicked off the event and presented the dictionaries to classes of children Tuesday morning. Other elected officials slated to distribute the books are state Reps. Kyle Kacal and John Raney, County Judge Duane Peters and County Commissioners Kenny Mallard and Sammy Catalena. All of the elected officials were Republicans or members of the tea party.

Flores told each classroom of children a story about one of his teachers who would write a word on the blackboard every day for her class to learn.

"She did that so that we would have a better vocabulary and so that we would be able to read better, and so it really helped me a lot, and if I hadn't learned how to do that I probably wouldn't be able to be a congressman," he said.

Flores described the large dictionary that sits on the floor of the House, and also pulled out his iPad, saying dictionaries come in all shapes and sizes.

"I have a dictionary in my office in Washington and I use it almost every day, because when I'm reading a piece of legislation, sometimes there's a word in there I don't know," he said.

In Angela George's third-grade classroom, the children previously used a dictionary about once per week. There's only a handful of them throughout the classroom, she said, so they'll use them during reading groups while they're in a smaller group setting.

"Most of them do not have access to a dictionary at home, a lot of them do not, so it'll be really exciting for them to be able to take it home with them at the end of the year and have something that they can keep," George said. "It means a lot for our kids to have something that belongs to them."

After the students were handed a copy of a dictionary, they posed for a picture with Flores, then headed back to their seats. Most of them excitedly turned to the front cover to write their name on the inside.