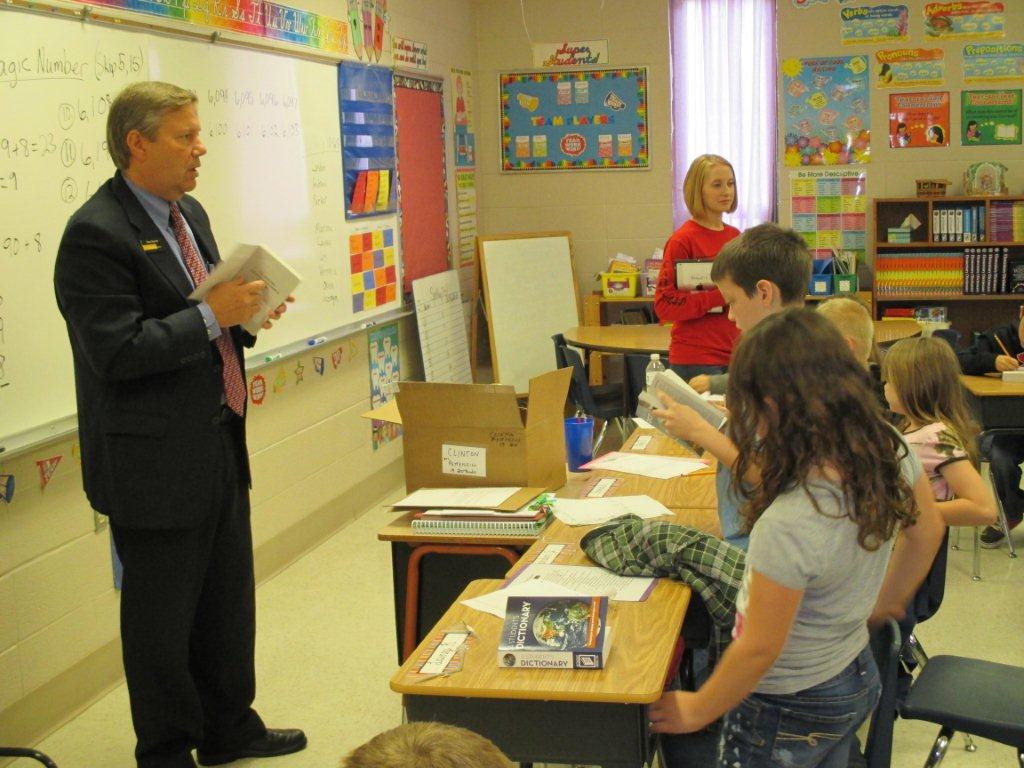 Henry County Third Graders Receive Dictionaries from Clinton Rotary Club
On Wednesday, October 16th, Clinton Rotary Club members presented dictionaries to third grade classrooms throughout Henry County. Excited to receive their very own dictionary, third graders hurried to put their name in each one. This year's Dictionary Project, held on October 16th, honors the 255th birthday of Noah Webster, the father of the American dictionary.

Clinton Rotary Club and Literacy Council partner to annually sponsor the Dictionary Project, with the Rotary Club funding and presenting the dictionaries to each third grader. Fourth and fifth graders who had not attended third grade in the schools also received dictionaries. Rotary members distributed 338 dictionaries at eleven schools including Clinton Intermediate, Clinton Christian Academy, Holy Rosary, Calhoun Elementary, Davis, Lakeland Elementary, Leesville, Montrose Elementary, St. Mary's, Shawnee Mound and Windsor Elementary.

With today's online dictionaries and smartphone apps, many ask "Do kids still need paperback dictionaries?" About 75% of American children have internet access in their home; and most schools have computers in classrooms or have a computer lab, but not on every desk. A paperback dictionary can be kept in a student's desk or backpack, and is useful anytime or anyplace. With their own dictionaries, children learn how to look up and understand words, improve their reading and writing skills, and become independent learners. Paperback dictionaries can give all kids access to the information they need to be successful in school. Knowing that a dictionary is probably a child's first reference tool, the project helps steer children to a path of lifelong learning.

The Dictionary Project began in 1995 in Charleston, SC with a goal of providing a dictionary to all third graders in the state. The project is now nationwide, sponsored primarily by civic organizations that care about helping young people in their communities. We're grateful for the Rotary Club supporting this project which benefits the youth of Henry County.