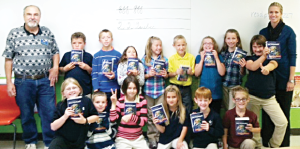 Students Appreciate Dictionary Donation
Skeels Christian School 3rd graders received dictionaries from the [Gladwin] Kiwanis Organization [recently].

This project was created in 1995 by two South Carolina women who understood the importance of honing writing and learning skills through knowledge.

This provided another opportunity for the International Kiwanis Organization to meet their stated purpose of "Serving the Children of the World."

Kiwanians believe that being a part of this effort is like giving sets of keys, the tools that will unlock all the information there is to be gained from reading, and improve communication skills through better writing.

During the past several years, hundreds of dictionaries have been given to all third graders in Gladwin County.